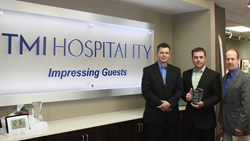 We know all future recipients will be compared to the level of service and performance delivered by ReactorNet
San Antonio, Texas (PRWEB) March 03, 2015
ReactorNet, a premier provider of SaaS-based eProcurement solutions for medium- to large-sized companies, today announced they have been selected as recipient of TMI Hospitality's 2014 Supplier of the Year Award. TMI Hospitality is a leading hospitality development and management company with over 200 hotels across the U.S. This is TMI's first ever Supplier of the Year Award.
"We appreciate the great partnership we have with ReactorNet," said Sidney Lien, vice president of Procurement at TMI. "We know all future recipients will be compared to the level of service and performance delivered by ReactorNet."
After a thorough evaluation process by TMI, ReactorNet's EPRO was selected as their spend management solution in February of 2014. EPRO is an award-winning Procure-to-Pay platform allowing buyers to directly collaborate with suppliers to gain control of spend management and maximize purchasing power.
"We are absolutely honored to be distinguished in this way by such a highly regarded company and customer as TMI Hospitality," said Nathan Waltrip, director of Business Development, ReactorNet. "TMI's efforts and attention to detail made our job a lot easier and for that we are very thankful to TMI."
About ReactorNet
ReactorNet is a premier provider of SaaS-based, eProcurement solutions for medium- to large-sized companies across industries including entertainment, hospitality, and automotive. ReactorNet powers Cinema Solutions and EPRO collaborative platforms, integrating buyers' and suppliers' purchasing responsibilities into a centralized location—removing procurement barriers to reduce operational costs by improving accountability, increasing spend visibility, and maximizing buying power. ReactorNet is a recipient of ThinkStrategies' Best of SaaS Showplace Award.
Founded in 2005, ReactorNet is a privately held company headquartered in San Antonio, Texas. Clients include AMC Theatres, Cinemark Theatres, Carmike Cinemas, John Q. Hammons Hotels Management, TMI Hospitality, and Philips Lighting Company (a division of Philips Electronics). For more information, please visit http://www.reactornet.com.