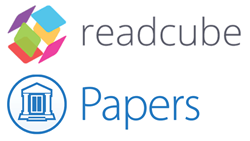 For some time we've admired Papers' award winning app for the Mac. Today we are proud to add Papers to the ReadCube portfolio of solutions for researchers
London, UK & Boston, USA (PRWEB) March 16, 2016
ReadCube, an innovative software developer serving researchers, publishers, academic and commercial organizations, today acquired Papers from global academic publisher Springer Nature.
Papers is a London-based, reference manager tool which helps researchers find and organize a personal library and cite research literature. The business will be headed by Robert McGrath, CEO at ReadCube. The terms of the acquisition were not disclosed.
Both companies were borne out of academia; both Papers and ReadCube were created by researchers for researchers. ReadCube was developed by Harvard researchers, whilst Papers was the creation of postdoctoral researchers at the Netherlands Cancer Institute. Its founders set out with an identical goal, to solve the problem they faced on a daily basis - to enable academic and scientific researchers to organize, read, cite and share research material from the growing mountain of electronic papers and articles available to them.
"For some time we've admired Papers' award winning app for the Mac. Today we are proud to add Papers to the ReadCube portfolio of solutions for researchers," said Robert McGrath, CEO and co-founder of ReadCube.
"We look forward to working with the Papers user community to continue to build on the impressive work the Papers team has done to date. It is through close collaborations with researchers, publishers, and institutions that ReadCube and its solutions in this space are helping connect data, facilitate discovery and improve the accessibility of literature. Through this acquisition we hope to accelerate the pace of discovery."
About ReadCube
ReadCube develops software to make the world of research more accessible and connected- serving researchers, publishers, academic and commercial organizations.
ReadCube's research tools include web, desktop, and mobile apps help researchers easily organize and manage their existing article libraries, and discover new literature through searches and personalized recommendations. For institutions and commercial organizations, ReadCube offers site-wide collaborative team editions of their end-user tools plus ReadCube Access, affordable article-on-demand access to scientific articles in non-subscribed journals. ReadCube's publisher solutions include Readcube Discover, ReadCube Connect, and ReadCube Checkout. ReadCube's publisher technologies have been adopted by over 70 partners such as Wiley, Springer Nature, Allen Press, DeGruyter, MIT Press, and SciELO.
Harvard researchers Robert McGrath and Siniša Hrvatin founded ReadCube in 2007, which now has offices in Cambridge, MA, London, United Kingdom, and Zagreb, Croatia, and is supported by Digital Science, a technology division operated by global media company, the Holtzbrinck Publishing Group.
Visit http://www.readcube.com and follow @readcube / http://www.digital-science.com and follow @digitalsci for more information.
About Papers
Papers provides powerful tools for organizing and discovering academic papers. It is a research literature management solution for PC, Mac, iPad and iPhone that allows users to find articles using any of its built-in search engines, to import and organize articles, to read and annotate articles.
Visit http://www.papersapp.com and follow @Papersapp for more information.
About Springer Nature
Springer Nature is a leading global research, educational and professional publisher, home to an array of respected and trusted brands providing quality content through a range of innovative products and services. Springer Nature is the world's largest academic book publisher, publisher of the world's most influential journals and a pioneer in the field of open research. The company numbers almost 13,000 staff in over 50 countries and has a turnover of approximately EUR 1.5 billion. Springer Nature was formed in 2015 through the merger of Nature Publishing Group, Palgrave Macmillan, Macmillan Education and Springer Science+Business Media.
Visit: http://www.springernature.com and follow @SpringerNature for more information.