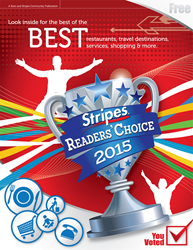 There's nothing better than having a listing of all the top notch places to frequent in Germany by those who discovered them.
Kaiserslautern, Germany (PRWEB) March 10, 2015
Stripes Readers' Choice 2015 recognizes the businesses, organizations and destinations that make Stripes readers feel at home in Germany. It highlights those places and services that best cater to the unique needs and lifestyles of those living abroad.
Votes poured in for favorite restaurants, shopping, lodging, golf courses, and travel destinations among other categories. The 38 categories included on and off base service providers.
Winners were tallied from votes cast by members of the military community in Germany that included active duty and family members, civilians, contractors, and retirees.
Whether you've just moved to the area or simply want to try something new, Stripes Readers' Choice publication is your guide to the best of Germany. Use it to help plan your next shopping trip, dinner out or weekend getaway!
Stripes Europe's Revenue department presented winning businesses with framed certificates, some of which won for a second year in a row. Wherever you go in Germany's military communities, you'll see these certificates proudly displayed.
"There's nothing better than having a listing of all the top notch places to frequent in Germany by those who discovered them," said Stars and Stripes Marketing Manager Cheryl Boujnida. "People are very passionate about their favorite places and enjoy sharing positive experiences with others."
Stripes Readers' Choice Best of Germany publication is now available at the Exchange and commissaries on bases in Germany or read online.
About Stars and Stripes
Stars and Stripes reports on military matters as the only independent source for news and information operating inside the U.S. Department of Defense that serves the global U.S. military community. Editorially independent of any outside interference and influence, Stars and Stripes provides commercially available U.S. and world news and objective, factual staff-produced stories relevant to the military community it serves.
In addition to providing news in print, Stars and Stripes offers its unique reporting on stripes.com, through the Stars and Stripes iPhone App, now available on the App Store, and through our free email newsletters. Get regular updates with a subscription to Daily Headlines, Weekly Updates, Stripes Opinion, Veteran's News, or Military History newsletter.