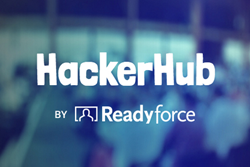 Meeting students at a hackathon is the best way to connect in an environment that exhibits their passion for software engineering.
San Francisco, CA (PRWEB) March 18, 2014
Readyforce, the leading career network for college engineering students, today announced the launch of HackerHub, a one-stop shop for companies to discover, sponsor and connect with student-run hackathons. Hackathons transform the recruiting landscape by distinguishing the nation's future leaders and innovators outside of the traditional college recruiting channels. Readyforce created HackerHub for any company to easily access and use hackathons to find and recruit the talent they need.
Explaining hackathons
Hackathons are 24 - 48 hour events where passionate technical students come together in teams to compete for prizes and recognition based on the projects they build. These students, known as "hackers", embody the key characteristics companies look for when hiring students out of college - initiative, creativity, problem solving and, most importantly, the ability to build functioning software products, mobile applications and hardware products. Student-organized hackathons are launching across college campuses this Spring with an expected 20,000 plus students participating in more than 45 events, including new regional hackathons in Canada (McHacks) and the South (HackGT), high school hackathons like hackBCA and HSHacks and the renowned megahackathons that include UCLA's LAHacks, Michigan's MHacks, Princeton's HackPrinceton, Purdue's Boilermake, Caltech's hackTECH and UIUC's HackIllinois. "The 400 plus builders, makers, and doers that come out every year are what inspire us to keep making the event bigger and better every time," says Eli Kariv, lead organizer of Penn State's returning HackPSU.
Use hackathons to recruit
In today's competitive recruiting environment, hackathons provide college recruiting innovators like Facebook, Square and Twilio the opportunity to meet with top engineering students in a real world environment that is significantly more engaging than the traditional campus information session or career fair experience. By sponsoring an event, companies get to work side-by-side with students, perform tech talks, provide mentorship, give coding advice and promote their products or APIs.
Companies also have the opportunity to talk about their company culture, entry-level engineering positions and gain access to student resumes. Rob Mallery, head of organizational development at Originate says that "meeting students at a hackathon is the best way to connect in an environment that exhibits their passion for software engineering. We have a culture that values agile, entrepreneurial engineers and hackathons attract the type of students we want to know."
HackerHub - for companies of any size or budget
Designed to make it easy for companies to tap into the recruiting potential of hackathons, Readyforce's HackerHub helps companies keep track of all announced events, find the right event that matches their company culture, focus and budget while providing a powerful online tool to organize, search and share student resumes. Companies can subscribe to the HackerHub calendar to receive updates when new hackathons are announced and can scroll through the upcoming and past events - some events even offer exclusive HackerHub post-event sponsorship opportunities like Texas A&M's Hacker Bowl, USC's HackSC, and William and Mary's TribeHacks.
For companies with specific recruitment interests, HackerHub makes it easy to find special details on events like women-in-tech-focused Pearl Hacks, nonprofit-focused HackDuke or local-focused CodeDay. "HackerHub is a great opportunity for Readyforce to continue to fulfill our mission of connecting students to amazing companies and events," says Alex Mooradian, CEO of Readyforce. In less than six weeks, Readyforce has introduced over 65 recruiters to the student organizers of 12 upcoming Spring hackathons.
For the 27 student hackathons that partner with Readyforce this Spring, Readyforce will provide them with a free online resume organization tool. Students upload a resume and create an online profile with pictures/videos of projects and a link to their github profiles. Instead of paper resumes or zip files of outdated pdfs, companies receive a link to a Readyforce folder where students can be filtered by grad date, school and skills. Companies can also easily share folders within their recruiting team and message student hackers directly via Readyforce.
HackerHub goes live today. Recruiters interested in getting involved with students hackathons should subscribe to HackerHub. Student organizers that are interested in partnering with Readyforce can visit http://www.readyforce.com/events. Companies looking to connect with over 50,000 engineering students can get started on Readyforce at http://www.readyforce.com/students.
About Readyforce
Readyforce, the leading career network for college students, is the easiest way for students to launch amazing careers. Focusing on engineering students, the Readyforce network connects students to influential business leaders, powerful campus programs, engaging networking events, and exciting jobs and internships at cool start-ups and innovative companies of all sizes. Readyforce is backed by Menlo Ventures, US Venture Partners, Pivot North, Founder Collective and First Round Capital.
http://www.readyforce.com