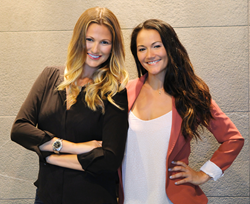 We're always looking for the best ways to service our clients, and we know that begins with the best homes.
Edmonton, AB (PRWEB) July 14, 2014
Sara Jessie Real Estate is contributing to the overall rise in real estate throughout the Edmonton area. Between a top-notch marketing plan and reputable service, they've carved a niche within the condo real estate market. As some of the leading real estate agents in the Edmonton area, they have worked with developers for years and sold over 400 properties and counting.
"We're passionate about real estate, and saw particular potential in the condo real estate market," says co-founder Sara Jones. "Now the market is better than ever, and we're happy to be a part of that. We're always looking for the best ways to service our clients, and we know that begins with the best homes."
According to CBC, Edmonton homes are being sold on the market at record highs, making this the perfect time to sell. The Realtors Association of Edmonton has reported that the average price of a home rose to $432,000—up $6,000 from May 2007. Despite the spike, prices are not slowing down the real estate market; sales are up six percent this year. Furthermore, the average sale for condo real estate this year is $238,854, compared to 2010's average, $230,072.
The Sara Jessie Real Estate website and social media efforts have proven to be a primary source of information for prospects, or those simply interested in learning more about the business. With Sara Jessie TV, viewers can learn about top tips for buyers and sellers, as well as new listings on the market. Additionally, the Sara Jessie Advantage includes a comprehensive "10 Step Custom Marketing Formula" to help sellers find the right buyer at the best prices with a quick turnaround.
The team has a unique, stress-free approach to working with clients that have led to an esteemed local reputation. Their customer service principles have afforded them word-of-mouth referrals since they were founded, and continue to do so. The testimonials on the Sara Jessie Real Estate Services site demonstrate the level of customer service executed by the duo. For more information, visit their site, www(dot)sarajessie(dot)ca.
About Sara Jessie Real Estate:
Sara Jessie Real Estate was formed with solid customer service principals on a sound foundation: to bring passion to the Edmonton real estate market. Aside from possessing extensive experience in the field, real estate agents Sara Jones and Jessie McCracken are deeply committed to making selling and buying Edmonton property a seamless, positive experience. Together, they have closed more than 400 properties in the Edmonton area.
Related Search Phrases:
[Condo Real Estate] [Real Estate Agents] [Sara Jessie Real Estate Services] [Breaking News] [Edmonton Real Estate News] [Alberta News] [Real Estate Services] [Sara Jessie TV]
Related Hashtags:
#CondoRealEstate #RealEstateAgents #BuyAHome #RealEstate #BreakingNews #Edmonton #SJTV #SaraJessie #Condominiums