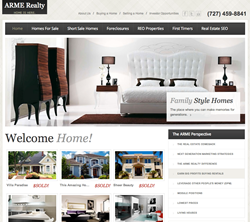 Dunedin, FL (PRWEB) September 16, 2013
Pinellas County based Florida company ARME Realty.com announces their latest weapon for real estate internet marketing with their new social bookmarking module. This module is being touted as a top tool for allowing real estate professional to create high value social bookmarks that point to their website addresses. This in turn tends to increase the ranking of a participating brokers websites.
The company uses a myriad of tools to assist real estate professionals with maximizing their exposure on the internet. Most clients are also using the tools to more effectively market their clients' real estate listings in an attempt to get their properties sold even faster. Industry insiders consider the newest social bookmarking add on to be a powerful tool for raising the number of "eyeballs" a real estate broker will receive on their websites.
Simon Landers, a spokesperson for the company states, "Social bookmarking is not a new strategy. In fact it is a top tier linking strategy that is often overlooked. We compile a list of high page rank web portals that will allow our clients to create a web page on their website with a link back to your site. These sites bring that 'Google' juice brokers need to drive massive traffic to their property websites."
ARME Realty.com specializes in organic web development. Their "slow and steady wins the race" approach along with their multi prong attack strategy deliver fast and measurable results for real estate professionals nationwide. Their strategies have delivered homes sales for clients across various markets, and their programs are touted by professionals as some of the best in the business.
For more information about ARME Realty.com contact the firm at (727) 459-8841 or visit their website ARME Realty.com today.