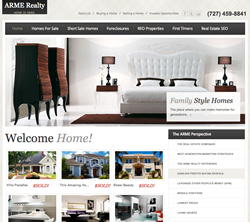 This technology is going to change the way real estate pros build their websites.
Nationwide (PRWEB) July 14, 2013
Real estate professionals using the latest cutting edge real estate internet marketing solutions for their websites write more business than others who do not, according to a recent survey administered by ARME Realty. With more and more buyers turning to the internet for their home search, real estate professionals understand how important it is to have a website. The question is, does their website produce sales?
ARME Realty has solved this problem with the release of their web development toolkit. With this toolkit, real estate professionals can now have a website that literally works for them. This toolkit allows agents to grow the size of their website on auto pilot while also increasing the size of the number of listings advertised. The system is engineered to maximize web exposure for that online real estate marketing for the latest real estate marketing solutions while simultaneously producing a steady stream of prospects, right to your cell phone.
Simon Landers, a spokesperson for the company, stated, "This technology is going to completely change the way real estate professionals build their websites. The proprietary technology behind this has been responsible for millions of dollars in sales across various niches, and the fit for real estate is apparent. This system hits directly to the local cities and zip codes where brokers are finding their customers."
Real estate professionals are finding the concept intriguing and have called the company to obtain details about how they can implement the concept. The company has a phone number on their website ARMERealty.com which is (727) 459-8841 where people interested in learning more about their programs can call right away.