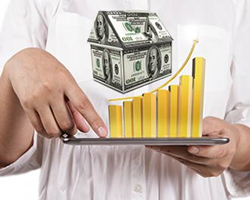 Americans are regaining faith that real estate is the best choice for long-term investments. But home ownership is also associated with views of real estate as an attractive investment opportunity. - Gallup
Minneapolis, Twin Cities Minnesota (PRWEB) April 20, 2014
Twin Cities property investors fit the national profile and are buying, renovating, gaining rental income AND a tax break too! According to Gallup survey results released April 17 and titled Americans Sold on Real Estate as Best Long-Term Investment, "Americans today are more likely to think real estate is the best option for long-term investments than in the past, ranking it ahead of gold and stocks".
"A notable number of investors are transitioning funds from traditional investments - such as stocks and savings accounts - to Twin Cities real estate," says Jenna Thuening, owner of Home Destination. "Wearied by high variables or a low rate of return, investors are opting to gain more stable profits from buying distressed properties and embarking on house flipping projects or purchasing rental income homes."
Nationally, the housing market has been improving across the U.S., and home price appreciation is rising after a sharp decline in 2007 due to the sub-prime mortgage crisis. "This current improvement in prices may be why more Americans now consider real estate the best option for long-term investments," states Gallup.
The tallied results from Gallop's April 3-6 Economy and Personal Finances poll, signal a growing confidence in real estate investments. Gallup asked survey participants to choose the best option for long-term investments: real estate, stocks and mutual funds, gold, savings accounts and CDs, or bonds. Gold was added as an option after 2011 in the same query. According to CNN Money, Americans are focusing on real estate again, speculating it may be because, "They're going to spend a lot of energy choosing a good place to live, and might not also have the time to wisely manage securities investments too."
Key findings in the poll include:

Lower-income Americans designated as having less than $30,000 in annual income, are the most likely to say gold is the best long-term investment (31%). Upper-income Americans are the least likely to name gold (18%).
Upper-income residents are most likely to say they own their home, at 87%, followed by middle (66%) and lower-income Americans (36%).
33% of homeowners are slightly more likely than renters (24%) to say real estate is the best choice for long-term investments.
34% of Americans between the ages of 30 - 49 believe real estate is the best investment; 30% of those 30 - 64, 31% of those 65 and over, and 25% of individuals ages 18 - 29 believe the same.
Advice compiled by Home Destination to help Twin Cities property investors make sound real estate investment purchases:
1. Research The Property's Title Before Investing - While researching the home purchase, request to see a legitimate copy of the title or have a photocopy for future reference. This is very important as it enables your ability to verify if the property indeed has a clean title.
2. Start Out Small - Investing in one single-family home first and gain experience. With veteran experience, try real estate investment trusts ("REITs"), which allow real estate investors the means to income-producing real estate on a large scale versus one single-family home. A REIT is a company well established enough to have available funds to own and operate income-producing real estate or related assets. "Unlike other real estate companies, a REIT does not develop real estate properties to resell them. Instead, a REIT buys and develops properties primarily to operate them as part of its own investment portfolio," according to http://www.investor.gov.
3. Use the Buy-Renovate-Hold Investment Strategy with Depreciation Benefits - Some investors prefer to skip heavy monitoring of rental properties and choose the buy-renovate-and-hold strategy instead. If the buyer's intent at purchase is to invest in the property, remodel the home, and to remain flexible as to on-going decisions, they can flow with the market based on investment logic rather than a homestead need. At some point in the future, if the equity has substantially improvements, it may be the perfect time to sell.
"We see buyers who believe investment properties can really be a fun and rewarding endeavor," adds Thuening. "Provided you are not financially dependent upon your home to make you a fast and sizable return on an inflation-adjusted basis, it can be a great way to accrue wealth."
Home Destination offers an extensive library of home buyer resources and is a Twin Cities residential real estate consultant serving the metro over 15 years. Dedicated to giving investors the best opportunity to make solid real estate decision, call 612-396-7832 and ask for Jenna Thuening.