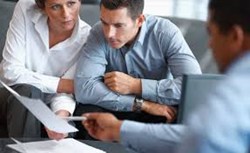 The new self-directed IRA real estate tax consultation service will be offered at no cost to our self-directed IRA clients
Miami, FL (PRWEB) August 08, 2013
IRA Financial Group, the leading provider of self-directed IRA LLC solutions, announces the introduction of its new tax consultation and advisory service specifically geared towards self-directed IRA real estate investors. "The new self-directed IRA real estate tax consultation service will be offered at no cost to our self-directed IRA clients, " stated Susan Glass, a tax professional with the IRA Financial Group. IRA Financial Group's new self-directed IRA real estate tax advisory service will help our real estate IRA investors navigate the IRS rules, including the prohibited transaction and unrelated business taxable income (UBTI) rules, as they pertain to making real estate investments. "The experience of our tax professionals in the area of self-directed IRA real estate investing is unmatched, " stated Adam Bergman, an in-house tax attorney with the IRA Financial Group.
Each client of the IRA Financial Group will have direct and unlimited access to our in-house tax and ERISA professionals. Unlike other companies, IRA Financial group will not limit your access to our tax professionals; in fact, you will likely have the opportunity to talk with one of them before you even get started. In addition, each client of the IRA Financial Group is assigned a retirement tax professional to assist in establishing an IRS compliant Self-Directed IRA structure.
IRA Financial Group's Self-Directed IRA for real estate investors, also called a real estate IRA with checkbook control, is an IRS approved structure that allows one to use their retirement funds to make real estate and other investments tax-free and without custodian consent. The Self-Directed IRA LLC involves the establishment of a limited liability company ("LLC") that is owned by the IRA (care of the Roth IRA custodian) and managed by the IRA holder or any third-party. As manager of the IRA LLC, the IRA owner will have control over the IRA assets to make traditional as well as non-traditional investments, such as real estate.
The new self- directed IRA real estate tax advisory service is a perfect tool for all real estate investors looking for a detailed overview of all the IRS rules concerning the use of IRA funds to purchase real estate. The tax advisory service will include advice concerning the IRS prohibited transaction rules, the application of the UBTI and unrelated debt financed income tax rules (UDFI), as well as the federal income tax rules relating to the use an IRA LLC in connection with the purchase of real estate.
The IRA Financial Group was founded by a group of top law firm tax and ERISA lawyers who have worked at some of the largest law firms in the United States, such as White & Case LLP, Dewey & LeBoeuf LLP, and Thelen LLP.
IRA Financial Group is the market's leading "checkbook control Self Directed IRA Facilitator. IRA Financial Group has helped thousands of clients take back control over their retirement funds while gaining the ability to invest in almost any type of investment, including real estate without custodian consent.
To learn more about the IRA Financial Group please visit our website at http://www.irafinancialgroup.com or call 800-472-0646.