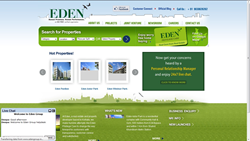 We have won the trust of clients by strictly adhering to the principles of transparency in our business approach and transactions.
Kolkata, India (PRWEB) October 07, 2014
A distinguished name in the real estate sector, Eden Group has been offering dream accommodations in Kolkata for a long time now. Numerous people are interested in settling in the capital city of West Bengal for leading a comfortable life and availing the modern amenities. With rise in demand, the prices of properties are also increasing. Eden Group endeavours to help common people in getting all the privileges of modern life by offering best-in-class yet affordably priced residential flats.
Regarding the accommodation options it provides, one of the senior executives of Eden Group stated, "We have won the trust of clients by strictly adhering to the principles of transparency in our business approach and transactions. As buying flat or apartment is a lifetime investment for the common people, we try our level best to offer them value for money properties at convenient locations. Eden Group is known for keeping abreast of all the current real estate trends and never fails to meet the demands of its clients. At present, we have a host of new residential flats on offer for the clients such as the Eden Pavilion, which is a G+4 residential complex with well-planned 3BHK flats. The Eden Sky Terraces is ideal for modern couples interested in a more luxurious lifestyle. Every apartment in this project comes with a private terrace from where you can enjoy the magnificent view of sunset and sunrise."
Concerned about protecting the best interests of its clients, Eden Group has recently launched the Eden Privilege Care. It offers an array of services for assisting the buyers in choosing the appropriate accommodations and customizing it according to their varying needs. The best trait, which sets Eden Group apart from the rest of the real estate companies, is that it never hides any details or shows disinterest in answering the queries of clients. The buyers are told exactly what materials are being used for construction and painting jobs.
"With the aim to offer peace of mind for clients, we are continuously upgrading our services. We do not just sell properties but build life long relationships. Friendly and knowledgeable representatives are available 24X7 online for clearing the doubts of the clients and guiding them. We give multi-year guarantee on all the important branded products like Godrej locks and Kone lifts for safeguarding the investments of the clients", the senior executive added further.
Eden Group offers dedicated personal relationship managers who help clients in customizing their flats. Adding an extra loft or joining two rooms into one, whatever may be the demand of the clients Eden Group is always ready to comply. Customer friendly services and capability of offering luxurious accommodations in the best locations have made Eden Group the first choice for people interested to buy flats for sale in Kolkata.
About Eden Group:
Eden Group is one of the most revered names when it comes to offering residential flats at the busiest and well-connected localities across Kolkata. It strives to make home buying an enjoyable process and let the clients customize their flats according to their particular needs. Eden Group is presently offering flats and apartments of different price ranges through its new residential projects in Kolkata.
Contact Information:
C Elgin Road
4th Floor, Oriental House
(Near Bhowanipore College)
Kolkata 700020
Telephone: 91334-00347-84, -
Email: info(at)edengroup(dot)in
Website: http://www.edengroup.in/
###