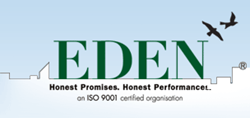 Eden Group enjoys decent reputation in the realty business,
India (PRWEB) February 11, 2015
As Indian economy has started stabilizing nowadays, one can feel a positive ambiance taking different sectors into its purview. The overall feel good vibes are just so conducive for the real estate sector as well. Especially in Kolkata, real estate investments have skyrocketed in recent years. For real estate investors searching for prime properties in and around Kolkata, Eden Group has come up as a ray of hope. The leading real estate firm is doing commendable job in suggesting and selling great properties to people who want to maximize their profits from the current boom in Kolkata real estate sector.
Speaking about factors that make Eden Group a preferred destination for prospective property buyers, a senior company executive told us in an interview, "There is none denying the fact that real estate sector is witnessing a decent ascension nowadays. In Kolkata, we have more customers interested in buying and selling prime properties. Accordingly, it becomes our moral responsibility to assist them by suggesting the hottest properties in the region. For almost two decades now, we have been delivering great value to our Kolkata based and other customers."
Eden Group enjoys decent reputation in the realty business, which further reflects through a bevy of finalized real estate deals and contented customers who love coming back to the company to benefit from its years of experience and expertise. Over the years, the real estate firm has focused on innovative technology, different architectural nuances, and meticulous planning to ensure that clients get outstanding products at prices based on their propensity to spend. Eden Group takes immense pride in its client base, which is increasing with each passing day.
The senior company executive told us further, "We never measure our success in terms of finished sales; customer satisfaction matters more to us instead. Since the year we started serving our clients, we have been making all possible efforts to meet and go beyond their expectations. We have been quite successful thus far in helping property buyers become proud owners of their dream homes in Kolkata. Kolkata, the city of joy, has a range of options to choose from for people interested in real estate. We, at Eden Group, help house seekers buy flats with amenities like playgrounds, car parking, swimming pools, and other high-end luxuries."
The company, one of the leading builders in Kolkata, further specializes in commercial properties, luxury properties, shopping malls, hotels, bungalows, storehouses, and Paying Guest houses. Professionals at Eden Group understand that the pace of real estate development in Kolkata has never been so swift and accordingly, they take every possible care in connecting real estate investors to properties that could help them keep pace with the current scenario. When it comes flats for sale in Kolkata, Eden Group can offer the support required.
About Eden Group:
From its physical base of operations in Kolkata, Eden Group has been quite successful in reaching out to interested real estate investors who want to buy their dream properties with ease and confidence. For a couple of decades now, the real estate firm has been doing sterling job in suggesting a bevy of options to residential property seekers who intend to buy affordable apartments in Kolkata.
Contact Information:
Eden Group
6C Elgin Road 4th Floor,
Oriental House (Near Bhowanipore College),
Kolkata 700020
Phone: +91 33 4003 4784 / 2280 5464
Email: info(at)edengroup(dot)in
Website: http://www.edengroup.in/
###