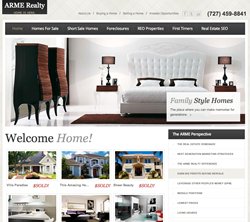 The answer is a resounding yes.
Clearwater FL (PRWEB) October 09, 2013
A Clearwater FL based real estate listing online marketing company has recently released their highly popular online property management toolset for real estate web developer. The release was initially leaked, and the result of the leak was that real estate pros from all over the country was asking for frequently asked question details.
For this, Simon Landers has announced his answers to some of the most common questions. He states, "The most popular question we get asked is, 'can I import MLS or RETS data?' The answer to that is a clear yes. The system is able to accept feeds into the system from various sources. However, since the source data could be in one of many formats, in many cases custom development is required in order to read the feed."
Mr. Landers continues, "Another question we get asked all the time is 'Can I allow users to post free or paid listings on my site?' The answer to this is also a resounding yes. Clients can setup a member based subscription service for sellers interested in listing their homes for their own attempted sale or even for other brokers looking for places to list their properties."
Another key point regarding frequently asked questions made by Mr. Landers is "Many potential clients have asked 'Is there a demonstration available for this?' Well of course there is! We would be happy to show potential clients first hand the power of the system and how it integrates seamless into the host of our other web development toolkits designed just for the real estate sector."
With the myriad of online MLS solutions available for real estate professionals, many brokers have indicated that it has been very difficult for them to choose a solution for their property management needs. ARME Realty.com aims to simplify the selection by offering a top tier property management solution for a low tier price that most real estate agents can afford.
For more information about ARME Realty.com and their services contact the company at (727) 459-8841.