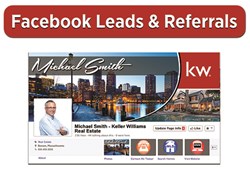 Los Angeles, CA (PRWEB) September 11, 2013
Back At You Media is the #1 real estate Facebook marketing and technology company helping real estate professionals generate leads and referrals through social media.
The Company announced today that Keller Williams Realty, the largest real estate franchise in the United States, has selected Back At You Media for inclusion in its Approved Vendor program. Back At You Media will focus on offering full-service Facebook marketing services to Keller Williams associates.
"Being approved by Keller Williams Realty to offer Facebook marketing services to their associates is a great honor and achievement for our entire team. Social media is only getting bigger and more important for real estate professionals. First movers, like Keller Williams Realty, in the social media real estate space are going to dominate leads and referrals on Facebook," said Back At You Media Co-Founders Michael Glazer and Eric Gaygeshian.
In addition, Back At You Media recently acquired Kono Social, a social media marketing firm focused on real estate and small business. The acquisition grows the company's portfolio of real estate clients and boosts the team of professionals that help Back At You Media continue to innovate and lead the real estate industry in their Facebook marketing.
Keller Williams Realty Inc. is the largest real estate franchise company in the United States by agent count, with approximately 700 offices and 88,000 associates around the world.
Back At You Media is the leading Facebook marketing and technology company dedicated to the real estate industry and the only company offering a full-service real estate social media solution for agents and brokers.
For more information, please contact info@backatyou.com.