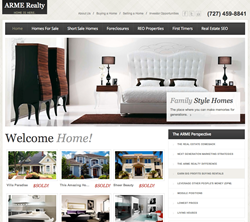 Top brokers in their markets have been leveraging the power of social media for some time now. The social network marketing programs are perfect.
Tampa, FL (PRWEB) October 02, 2013
ARME Realty.com, a Clearwater FL based real estate boutique online advertising company announces their latest internet advertising program for real estate professionals. Their latest offering allows real estate agents to populate hundreds of high page rank websites with their latest listings and other pertinent information.
In the world of search engine optimization for real estate brokers, it is important for a realtor to link their web properties with as many other high ranking websites as possible. Such linking is considered to provide the broker's website with authority, and the higher the authority of any real estate website, the more targeted website traffic that website will receive.
It's this simple fact why ARME Realty.com decided to offer this new social network marketing platform. The company professes that their techniques are not "secret" or some "cutting edge formula", but in fact their system consists entirely of tried and true social network marketing strategies practiced by top real estate brokerages around the country.
Simon Landers, a spokesperson for the company, states, "Top brokers in their markets have been leveraging the power of social media for some time now. What they have found is as the landscape evolves and networks are introduced and become obsolete, the task of managing all social network communications becomes an arduous task. For this, the ARME Realty.com social network marketing programs for real estate professionals are perfect."
After having surveyed the real estate SEO and internet marketing landscape, the company announces that their social network marketing plans start at as little as $100 per month with no long term contracts required. Currently the company supports over 1,500 social networks, article directories, social bookmarking sites, press release sites, web 2.0 networks, and more. The company has assembled a team of expert writers who have contributed to over 200,000 article pieces in various publications worldwide.
For more information about ARME Realty.com and their programs, contact the firm today at (727) 459-8841 or visit their website at ARMERealty.com.