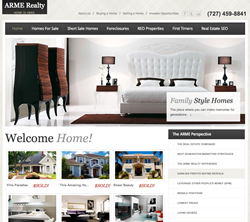 Our social network platform is easy to use.
Tampa, FL (PRWEB) October 16, 2013
A Florida real estate internet marketing company recently launched their new social network for real estate marketers and related professionals. Today, they add their open discussion feature allowing real estate bloggers and other professionals the opportunity to use their blogging platform free of charge for launching their own targeted discussion threads.
The company is aiming to capture the segment of online real estate marketers who actively post real estate marketing information on various forums and blogging platforms. The company states that these agents are typically looking to raise awareness for their real estate related initiatives and rely on busy forums such as the ARME Realty.com community for dispersing their messages.
Simon Landers, a spokesperson for the company states, "We understand the need for real estate marketing professionals to connect with others in the same space in a non-intrusive environment. A place where they can share strategies and ideas without having to listen to the sales pitch. This is the precise reason why our real estate SEO community initiative is so important for the industry."
Mr. Landers continues, "Our social network platform is not only easy to use for the less internet inclined, but it also works well for the seasoned real estate blogger that needs a robust social networking platform they can use to build their social network audience. In addition, since our platform can be integrated, we can also build the same robust solution on a broker's own website."
The company has been releasing a flurry of real estate SEO and marketing tools for real estate web developers since the beginning of the year, and their reported results of these releases has been exponential company growth. For more information about how a real estate professional can take advantage of their various programs or to sign on for a free profile on the social network visit the website at ARME Realty.com or contact the firm at (727) 459-8841.