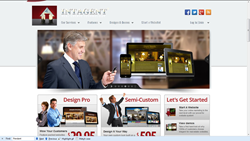 We can provide the kind of websites that help realtors grow their business," said the company representative.
(PRWEB) December 22, 2014
Intagent is an expert in realtor company websites. They provide real estate website templates that are designed to attract home buyers and assist realtors sell homes. They are feature rich with all the tools and technology needed to make a real estate website effective in the business of selling homes.
"With a pre-determined monthly payment, realtors have a website that can act as an online office for them, helping them to expand their business," said a company representative. Intagent has the most advanced templates for realtor company websites that any realtor would need. They continually research and develop new tools to ensure realtors have the most advanced marketing tools in the business.
Intagent is keen on developing tools that can enhance a website system making it an advanced marketing machine in the business. They get the tools reach to the contacts with plenty of ease. Realtors have at hand a fully optimized client relationship manager, a feature rich drip email marketing system, and localized data to keep your customers coming back. They make the website more efficient than regular staff in getting business.
"We can provide the kind of websites that help realtors grow their business," said the company representative. The features of the real estate website templates from Intagent include resources that help realtors stay in contact with their clients, manage appointments, and create email campaigns. These are the tools a realtor can work with throughout their career.
The look of realtor company websites from Intagent have an amazing look with user friendly navigation tools. All websites are mobile compatible to ensure potential home buyers can use realtor tools with their cell phone and tablet computers. They also have full customer relation management and email marketing capability. Robust content is provided to create added value to potential home buying clients.
About The Company:
Intagent offers professional real estate website templates that make the process of website development quicker. Their realtor company websites have the flexibility to stand out from other realtors with the dynamic tools a realtor needs to succeed. Intagent provides feature-rich real estate construction and management websites that take advantage of online marketing listings and helping realtors get to the next level.