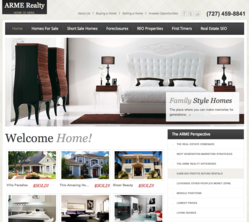 through a combination of social media, video distribution, search engine optimization and strategic media placements we then systematically increase the broker's website trust factor
Key West, FL (PRWEB) July 01, 2013
ARME Realty.com announces their latest lineup of real estate agent advertising programs available to agent across the country. The landscape for real estate agent advertising has changed dramatically, thanks in part to the rise in dominance of social media.
More business relationships are being formed online then ever before, and real estate professionals who are lucky enough to position themselves for growth in the online real estate arena are selling more homes then their off line counterparts.
In comes ARME Realty.com, their higly popular web development toolkit for real estate professionals is said to have revolutionized the way real estate pros build their websites, and experts agree that their new real estate agent advertising programs will of no doubt be a wonderful addition to their web development processes.
"Building a massive targeted website is simply not enough. Brokers and realtors need to add the trust factor," said Simon Landers, spokesperson for ARME Realty. "We now have the ability to cover every facet of a realtor or brokers online marketing campaigns to ensure that brokers achieve the maximum trust factor required for high rankings. These strategies alone have been known to double or triple brokers traffic in a short amount of time."
Mr. Landers continues, "Our strategies are proven and straight forward. First we build a massive highly target website for the brokers property types using the latest responsive theme technology. Then through a combination of social media, video distribution, search engine optimization and strategic media placements we then systematically increase the broker's website trust factor by building high quality link relationships with other web properties. This strategy not only provides results immediately but helps build trust factor over time and provides better ranking for a the realtor or agent, greatly increasing their visibility, traffic, and sales."
If you would like to learn more about the real estate agent advertising programs available with ARME Realty then please call (727) 459-8841 and speak with an agent.