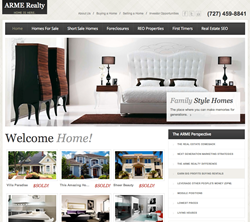 Our system is easy enough for newbies and robust enough for the pro's.
Clearwater, FL (PRWEB) October 23, 2013
A local Clearwater FL based internet marketing company ARME Realty.com has recently announced the release of their latest upgraded blog system for real estate professionals nationwide. With more realtors using social network to spread their sales messages, ARME Realty.com hopes to capture some of these marketers with their blogs' ease of use and its robust set of communications features.
The company has created this blog system for online real estate professionals who are looking for a reliable, high traffic blog platform they can use to showcase their real estate conversations. Many brokers have even considered using this as a website building tool as it officially allows users to add their own custom content which they can then showcase to our network or visitors.
Lance Flaugerman, the websites chief blog administrator states, "So many real estate websites that specialize in the conversation fail at one key element - user friendliness. We find that many real estate professionals who participate in many online conversations pertaining to their niche cannot navigate a comprehensive blog platform, and the result is it makes it difficult for that person to start their own real estate blog. We make it easy."
Mr. Flauderman continues, "Our system is easy enough for newbies and robust enough for the pro's. All available functions are laid out on a easy to navigate template, and the blogging feature set is robust enough for a real estate professional to use this system as their main blogging platform."
The company is currently in the stages of scaling their hardware to accommodate up to 1,000,000 users at any time. Currently users an go on the website ARME Realty.com, click on the The Community link at the top of the page, and go through a simple process to sign up. Once signed on, users can then post new topics, respond to existing topics, or reach out to other users.
For more information on how to be a part of ARME Realty.com's growing network of real estate SEO blogging professionals visit the website ARME Realty.com right away.