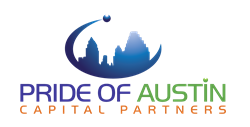 (PRWEB) December 02, 2013
The private lending industry congregated last week for three days of education, networking, and sharing of best practices at its annual summit in Las Vegas, the American Association of Private Lenders national conference.
Pride of Austin Capital Partners took a major leadership role at the conference for the second consecutive year by leading three of the event's discussion panels and teaching an educational course.
"As a member of the AAPL Board of Directors, I have made a personal commitment to bring value to the Association's members through seminars and educational courses that provide the vital information to members of the real estate private lending industry that will allow them to maintain a high level quality and integrity," said David Owen, a Managing Member for Pride of Austin Capital Partners who, alongside his co-Manager Robert Buchanan, led a seminar at the conference on how to manage a successful real estate investment fund.
Buchanan also taught a section of the Certified Private Lender's Associate course, which covered best practices for underwriting real estate construction loans. Buchanan's expertise on this topic derives from his background as both and auditor who conducted loan reviews at numerous regional banks, and as president of a custom home construction company.
"Real estate rehab and new construction is a huge industry right now in Texas. Many private lenders are gun-shy when it comes to lending on an asset that isn't yet built but, in a market like ours, you are missing the opportunity to finance a lot of quality projects if you weren't lending on spec homes and commercial construction," said Buchanan.
Conference seminars touched on topics from loan servicing and underwriting to legal developments and regulations that affect the private lending industry.
James Rincon, Pride of Austin's Vice President of Business Development, joined AAPL members Mark Hanf or Pacific Private Money Loans and Scott Corbett of Lightmark Media to lead a discussion panel on building business through effective marketing strategies for real estate investment and hard money lending.
"There are a lot of markets all of the country that desperately need private money in the real estate development sector in order to allow their economies to recover and grow. What I think a lot of us learned at the conference this year is that there isn't a shortage of private money available for these real estate development projects, but often the deals don't get done simply because the borrowers can't find the right lender for their project, or vice versa, " Rincon said. "In those instances, the right kind of targeted marketing can bridge the gap between lenders and borrowers and bring the right people together to get a project funded."
Owen said this year's conference had many bright points that he believes will encourage industry leaders to continue to attend and contribute to the constant improvement of the Association and the industry it represents. Owen was invited to sit on the wrap-up panel next to AAPL Executive Director Larry Muck and several key members of the Association's Board of Directors.
"The members of that panel really conveyed their commitment to hone in on the wants and needs of the American Association of Private Lenders members, and provide them with support services that will better allow networking and deal making within the organization. When managed poorly, events like this conference run the risk of becoming glorified trade shows with breakout sessions that are just a series of sales pitches," Owen said. "Knowing this, this organization and its Board will continue to develop programs that contain real content or value to our members, and to develop the year-round support services that distinguish AAPL members from the private lenders working at the status quo."