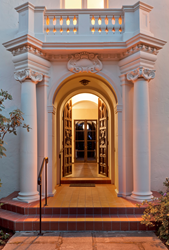 San Francisco, CA (PRWEB) July 31, 2014
Better Homes and Gardens Mason-McDuffie, a national real estate company, is now offering a unique and intelligent method to help people pass their CA State Real Estate Salesperson licensing exam the first time. The company's proven live instructions blend an understanding of the California Real Estate Principles and its application to the real estate profession. Exam-takers will be career ready for a fast successful start once they obtain their real estate license.
Better Homes and Gardens Mason-McDuffie provides live classroom instruction taught by a veteran with over 40 years of experience in all aspects of the real estate field. The company has a 95 percent plus pass ratio of all who took the training program.
These courses are BRE approved and certifications given by Real Estate Express, a national real estate school. Required courses which meet BRE requirements include California Real Estate Principles, California Real Estate Practice and California Real Estate Finances. Those who participate in the training program will gain valuable real estate sales skills to build and develop their real estate foundation for success.
Practice exam questions and supplemental real estate mathematics are also included in the program. The instructor is always available for any help, mentoring or coaching when needed. This live "crash course" will ensure that all will pass the state exam.
Classes are held on Saturdays from 9 a.m. to noon at Walnut Creek and 2-5 p.m. at San Jose (Alamaden Express Way). Call for locations.
Better Homes and Gardens Mason-McDuffie Real Estate encourages all those looking to start a career in real estate to seize the moment and get started now with this exciting training program. Don't hesitate because the real estate market is heating up.
To participate in this dynamic training and reserve a seat, visit http://www.jotformpro.com/MMREIT/reschool.
About Better Homes and Gardens Mason-McDuffie Real Estate:
Our heritage began with the founding of Mason-McDuffie Real Estate in 1887. The company was named the 35th largest real estate services firm in the nation (REALTrends 500) in 2012, and Number Two in the San Francisco East Bay (SF Business Times). The company provides comprehensive solutions to home buyers and sellers, and handled more than 5,900 transactions in 2013, generating over $3 billion in sales volume. Better Homes and Gardens Mason-McDuffie Real Estate includes joint ventures with Highland Partners in Piedmont and Montclair, Leading Edge Properties in Petaluma, Tri-Valley Realty in Pleasanton and Livermore, Ventura Barnett in San Jose, and Bahay Co. in Concord. Better Homes and Gardens Mason-McDuffie is a member of the luxury real estate network, Who's Who in Luxury Real Estate. Better Homes and Gardens Mason-McDuffie Real Estate is locally owned and has more than 1,200 real estate professionals with 30 offices in eight counties in the Bay Area, wine country and the Tahoe/Truckee region. For more information, go to http://www.bhghome.com