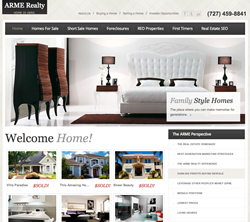 All of our services include complete keyword data analysis essentially covering every property type for rent or sale in a brokers desired area. We guarantee that our data is more complete than our competitors
Key West, FL (PRWEB) June 30, 2013
An up and coming real estate website advertising company ARME Realty.com has just announced their latest lineup of real estate website marketing programs for real estate agents and brokers nationwide.
With new home construction and home sales on the rise around the country, real estate professionals are realizing just how important it is in today's digital age to have a solid web presence. More people than ever are gathering their home buying information from the internet, and because of this, the program lineup at ARME Realty.com is said to be a perfect fit.
We interviewed Simon Landers, the company's spokesperson, for a breakdown of their new programs. Mr. Landers responded, "We are proud to introduce the following real estate website advertising programs for realty professionals. They include a complete lineup of website marketing platforms such as social network management, web 2.0 marketing, website development, virtual tour setup and integration, campaign tracking, and much more."
Mr. Landers continues, "In addition, all of our services include complete keyword data analysis essentially covering every property type for rent or sale in a brokers desired area. We guarantee that our data is more complete than our competitors. We then input this data into our proprietary web development toolkit for complete website creation on steroids."
While ARME Realty.com is a new company as of January 2013; their media directors have 20+ years of combined experience in the fields of online marketing, search engine optimization, email marketing, pay per click management, Joomla web development, and more. Their strategies have been used successfully by web masters across a variety of niches and have, to date, produced more than $20M in online and offline sales.
Experts predict that, because of the rate of growth the real estate industry is seeing right now in digital space, brokers who want to stay in business will have no choice but to begin allocating more money to updated internet marketing directives. Their competitors are doing it, and as result more and more home buyers are finding and doing business with those companies first.
For more information about ARME Realty.com and their real estate website marketing programs contact the company at (727) 459-8841.