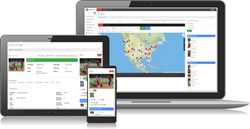 We love Real Time Athletes because it really levels the college recruiting playing field for all fastpitch players.
Los Angeles, CA (PRWEB) March 07, 2015
Real Time Athletes is the world's only time, location and distance search engine that allows millions of college bound recruits to match, to find, and be found by college coaches anytime and anywhere. This exclusive proprietary array of software modules connects the player, team coach, college coach, tournament, camp and the player's athletic performance measurements into one closed loop recruiting solution. RTA recently announced the launch of its latest Fundable campaign. The campaign, which was created to raise funding to add new functionality, additional modules and new sports such as baseball, lacrosse and soccer to the platform, will help scouts and college coaches spend less time, energy, and money searching for the right athletes to add to their rosters.
According to the Real Time Athletes' campaign page, there are over 10 million students participating in high school and club sports each year. Less than five percent will play at the collegiate level. Ninety percent of all college bound athletes get little to no exposure from colleges that match their academic and athletic skill set. Additionally, ninety percent of all college scouts only evaluate 10% of the perspective athletes searching to be recruited. The athlete's parents have little to no experience or knowledge on how to maximize their recruiting opportunities. RTA provides a suite of tools for the college coach, team coach and college bound athlete to search, match, and pinpoint recruits and scouting locations. Regardless of the arena, field, or team, the recruit can be found by an interested college scout.
In 2013, Real Time Athletes launched a beta for their first sport, FastPitchRecruits.com, and went on to go live and launch its subscription plan less than a year later. Although the platform is pending patents, Real Time Athletes has already signed up 16,000 users from more than 600 colleges, 12,000 players, and more than 3,900 teams. Three large and prestigious tournament directors have also signed up, and the project grows by more than 20 percent each month in the U.S. alone.
Through the funding campaign, Real Time Athletes hopes to improve and add modules and welcome more sports into the platform, such as baseball, soccer, and lacrosse. Everyone in the recruitment process can benefit from the platform, especially because the platform connects players and recruiters and allows them to view the Athletic Measurements and Testing results of every player's abilities. Users can also benefit from other key features of the platform, including tournament management, athletic performance testing, college coach recruiting, team coach management, camp/combine management and player-athlete recruit management.
"We love Real Time Athletes because it really levels the college recruiting playing field for all fastpitch players," said Tony Rico, the owner of Firecrackers Softball and a USA Nationals Coach. "There are so many talented players out there today that are not seen by college scouts. Whether it is because they are not getting into the marque college softball recruiting events or because their team only plays in small local areas 'under the softball recruiting radar,' those qualified players are missing out on possible scholarships for college."
Individuals interested in learning more about Real Time Athletes and its Athletic Scouting Tools can visit the RTA Fundable Page for additional information. https://www.fundable.com/real-time-athletes
About Real Time Athletes:
Real Time Athletes is the world's only time, location and distance search engine that allows millions of college bound recruits to match, to find, and be found by college coaches anytime and anywhere they are playing. This exclusive proprietary array of software modules connects the player, team coach, college coach, tournament, camp and the player's athletic performance measurements into one closed loop recruiting solution. For more information, please visit http://fastpitchrecruit.com