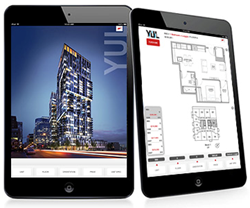 ActiveMatrix is changing the way we do business—the way we plan and the way we sell.
Concord, Ontario, Canada (PRWEB) October 24, 2013
ActiveMatrix is core to the Salefish real estate sales software solution used by condominium developers and their sales teams. The software, which utilizes iPads, graphically presents what every floor plate of a building looks like, including individual unit floor plans and orientation. Agents can show potential buyers these details, as well as payment information, amenities and specific building notes. One of the biggest time-savers for sales agents is the auto-generated Worksheets and Purchase Agreement feature. However, this is only one way Salefish streamlines the sales process.
Designed to be both a sales and revenue management tool, ActiveMatrix allows sales teams to see which units are available to sell. Since the program is web-based, information is live and updates are instantaneous. This real-time benefit not only prevents duplicate sales, but allows agents in different locations, even countries, to coordinate condo sales in the same building.
Developed by the Brivia Group, YUL is a high-end property in Montreal, Quebec that features condos, penthouses and townhouses. Its sales agency, Crown Real Estate group, was looking for a global solution for managing sales.
"We have two sales teams for this project; one in Montreal where the development is located, and the other in China," said Jesse Di Gennaro of Crown Real Estate Group (Montreal). "We weren't happy with our existing sales software solution, so we met with Salefish to see if their software & ActiveMatrix would solve some of our challenges."
The real estate sales software enables multiple sales matrices with separate unit availability; one for the Montreal market and another for China. Separate matrices provide the developer with complete revenue control all the while streamlining the sales process - this guarantees a great customer experience. Crown Realty could assign certain suites to the China matrix and populate different agreements based on the origin of the purchaser. Even though each matrix was customized separately both are completely integrated allowing agents to see which units had already sold and which remain available.
Salefish's ActiveMatrix is a dynamic revenue management console - it does much more than allow sales teams to simply "sell on the go". It enables developers & sales teams to adjust the pricing, set premiums and manage sales events while making it possible to see current traffic and sales data from both locations. "ActiveMatrix is changing the way we do business—the way we plan and the way we sell," says Jesse Di Gennaro of Crown Real Estate Group (Montreal); "It's definitely ground breaking."
About Salefish Software
Salefish creates innovative technologies that effectively eliminate the issues that challenge the building community. Their mission is to engineer solutions for real-time pre-siting with architectural controls, dynamic revenue matrices, robust reporting and a streamlined sales process. The result is a powerful suite of tools for developers and builders of all building types—innovations that have changed how developers plan, manage, and sell properties today.
About Brivia Group
Brivia Group is a fast-growing real estate developer and investor with an expanding property portfolio of successful projects. Brivia Group's mission is to develop real estate projects that meet the highest standards while respecting the expectations and values of stakeholders, investors, partners, and the community. For more visit http://briviagroup.ca
About Crown Realty Partners
Crown Real Estate Partners serves the greater Montreal area and brings together a team with tremendous experience. We are here to help you with buying or selling your home and to help you make the right decisions with your real estate investments. For more visit http://www.crownrealestate.ca/about-us
Contact Salefish Inc for additional information or to sign up for a demo:
http://www.salefishsoftware.com/request-a-demo/
Michael Bertouche, COO, mbertouche(at)salefishsoftware.com, 1 905-761-5364
Crown Realty Group (Montreal):
Jesse Di Gennaro, Crown Real Estate Group, 514-712-8879