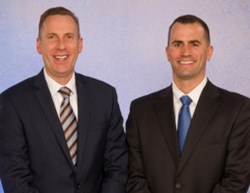 By providing training that answers real world situations, we empower our agents to take their business to the next level
Waltham, MA (PRWEB) September 25, 2013
McGeough Lamacchia Realty launched a comprehensive training program called REAL Training, which stands for Real Estate Education Advancement for Life. The program addresses real world situations and prepares them to better service home buyers and sellers.
John McGeough and Anthony Lamacchia, co-brokers and owners of McGeough Lamacchia Realty, spoke with many agents who were frustrated that most of their real estate training is hosted by people who aren't industry leaders and not active in the business. These agents want REAL Training with tools and techniques they can use every day and are applicable to their business success.
McGeough Lamacchia has always conducted training for their agents. McGeough Lamacchia decided to develop a more in-depth training program that is more adaptable to independent agents who have their own business. The program includes innovative strategies to help agents compete in today's real estate market.
REAL Training consists of ongoing training sessions led by McGeough and Lamacchia on a weekly basis, as well as monthly sessions led by a nationally recognized real estate coach. One session shows agents how to use tools such as blogs, videos, news stories, and the full power of their website, MLReatyNE.com, to grow their business.
"We enjoy sharing our own experience working with thousands of clients over the years," says Anthony Lamacchia. "We know which strategies work and which ones don't. By providing training that answers real world situations, we empower our agents to take their business to the next level."
REAL Training also includes sharing scripts, dialogues, and best practices when working with clients. McGeough Lamacchia share proven lead generation techniques, strategies their top agents use to make the best use of their time, and ways for agents to acquire skill based habits that will ensure continued success.
McGeough Lamacchia says the REAL Training Program is unlike any program offered by any other real estate company. By having agents attend the sessions on a regular basis, they stay motivated and informed. It also allows McGeough and Lamacchia to ensure their team of agents is up on the latest developments in real estate policies, news, and market trends.
"REAL Training reinforces our Company mission to obtain clients for life," says John McGeough. "The better trained our agents are, the more satisfied our clients will be."
To learn more visit our Careers Page.
About McGeough Lamacchia
John McGeough and Anthony Lamacchia are the number one Real Estate Agents in Massachusetts and named one of the Top 100 Real Estate Teams by the Wall Street Journal. They are a full service real estate agency serving home buyers and sellers Massachusetts and New Hampshire.
MLRealtyNE.com