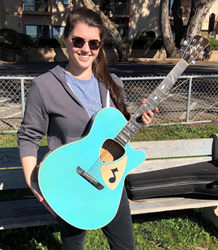 REAL.app is a tremendous new platform in which creators are in control of everything that happens, and they can actually get paid for their content.
LOS ANGELES (PRWEB) November 22, 2021
The recently launched media platform REAL.app has appointed music industry veteran Liz Kamlet as director of talent and marketing.
In her new role, Kamlet will recruit and oversee creators in the music, influencer, acting, athletic, gaming and similar spaces to serve as early adopters and lead generators for the platform. She will report to REAL.app CEO and founder Ian McLoughlin and REAL.app COO/CFO Doug Wallace.
"When we moved to Los Angeles, Doug and I quickly realized things were different," says McLoughlin. "Nobody knew us, and we didn't know how to get talent onboard. Then we met Liz – brilliant, energetic, driven and well connected in the L.A. scene. She immediately started having us hop on calls with artists and celebrities who knew her personally. We're looking forward to watching Liz bring the top talent and artists to the REAL.app platform. From what we can tell, she's just getting warmed up."
Prior to joining REAL.app, Kamlet worked for the past decade as an artist manager, social media marketer and touring consultant for legendary music artists, record labels, publishers, film studios and entertainment executives.
"REAL.app is a tremendous new platform in which creators are in control of everything that happens, and they can actually get paid for their content," says Kamlet. "I couldn't be more excited to be part of such a game-changing endeavor. Ian is one of the smartest people I've met, and for somebody so young he's already had remarkable success in the tech world. His dedication and personal attachment to REAL.app, and how he wants to see creators get paid, is very inspiring."
She adds, "Doug's history in the start-up tech space speaks for itself. He's been involved in many successful endeavors, and he's very engaged and open. He and Ian have an incredible relationship, and I'm happy to be a part of their team."
Launched November 4, REAL.app offers creators a platform to share exclusive content with their fans who accumulate coins by each creator. Creators can restrict content to those fans who own their coins. Fans can also interact and collaborate with creators depending on the number of coins they've acquired.
"For creators, REAL.app is an exclusive fan club for their followers," says Kamlet. "Creators can engage with their audience much easier than on other platforms. Many music artists and actors have millions of followers, but nobody actually gets to talk to them. There's a wall between talent and their fans. On REAL.app, that wall is torn down."
Kamlet also sees the financial incentive as revolutionary. "Fans can contribute to the lives of the talent," she says. "Imagine if you're a struggling actor or musician, or if you're a Tik Tok star, and you're barely making enough to support yourself. On REAL.app, you can sell an exclusive photo, or maybe you could offer fans a chance to purchase an early shot of your upcoming album cover. The possibilities are limitless, and for fans, they know they're directly supporting that creator, whereas they might not know where money is going on another platform."
For Kamlet, the chance to benefit musicians and other artists on REAL.app is one of her prime motivators. "I've been in the music industry for a long time, and I've seen artists struggle – everybody from legacy artists to people just starting out," she says. "There's a new media landscape out there for them, but it's hard for them to monetize their work. They have to do so much for themselves now, and it can be daunting – and sometimes impossible. It's exciting for me to be a part of REAL.app and be able to offer them a direct and tangible way to get paid for doing what they love."
In addition, Kamlet will implement and oversee strategic social media advertising, targeting different creators that she believes will find the REAL.app platform the most useful. "If you're a media professional and you want to host an event, you can let people know all about it on REAL.app. There really is no end to what we can promote on the platform. It will take time to build awareness and credibility in a saturated social media and music platform space, but that's okay. We're up for the challenge."
For more information, please visit:
http://www.real.app
Email: liz@real.app
About Liz Kamlet
Prior to embarking on her career in the music industry, Liz received a BA in History and Music Technology from the University of Colorado at Boulder. She also has an MA in Music Industry Administration (Music Business) from California State University, Northridge, and an MBA in Management and Digital Media Design from Harvard University.
Media Contacts:
Erin Cook, Ryan Romenesko and Nichole Peters-Good / Jensen Communications
erin@jensencom.com / ryan@jensencom.com / nichole@jensencom.com