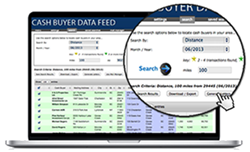 The Cash Buyer Data Feed is incredibly easy to use and has proven to be a huge asset for my business.
Campbell, NY (PRWEB) February 05, 2014
The most important contacts a real estate investor needs to make to be successful on an ongoing basis are cash buyers. Real estate cash buyers allow real estate investors to sell their deals or properties quickly and without the hassle normally associated with traditional financing such as hard money lenders or banks.
The Cash Buyer Data Feed is a virtual goldmine for its users. It's an online service and software platform that allows real estate investors to easily login and within a few clicks of a button build a custom list of new, known cash buyers that have, by public record, purchased a property for all cash within the last 30 days.
Excitement is really starting to heat up for The Cash Buyer Data Feed as they're announcing today the addition of new enhanced data that will now allow their users to pull cash buyer phone numbers as well as the normal mailing address information they've always provided.
A recent user, John, says, "The Cash Buyer Data Feed is incredibly easy to use and has proven to be a huge asset for my business. I've only been a member for a few weeks and I've already flipped a property to a cash buyer I found on The Cash Buyer Data Feed. The best part is it took me less than 10 minutes to search for and call this cash buyer."
This is a substantial game changer for the users of The Cash Buyer Data Feed as it now means that a user can login, search for cash buyers, and instantly see the phone numbers available. They can then contact those cash buyers by phone number immediately and it's all done in a matter of seconds.
The creator and owner of CashBuyerDataFeed.com, Cameron Dunlap says, "I created the Cash Buyer Data Feed because I've been an investor for years and I recognized that one of the biggest hurdles for investors is the ability to easily find real estate cash buyers. Now with our new enhanced data we've made it even easier for investors to find those buyers, contact them and close their next deal!"
Those interested in finding out more about CashBuyerDataFeed.com or taking a no-risk 30-day trial can visit http://www.CashBuyerDataFeed.com today.