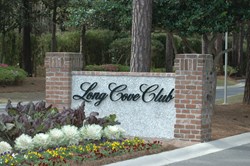 Hilton Head Island, SC (PRWEB) October 16, 2013
Reed Real Estate Group continues to exceed expectations in Long Cove market. This milestone has captured the attention of national media, reporting positive news which encourage more buyers to invest properties in Hilton Head golf communities. Before, only those in the executive class bracket invests in luxury home market. Over time, golf course properties became affordable and more appealing to ordinary investors.
The same can be said on the part of the property owners who relied with the Reed Real Estate Group expertise in terms of finding potential buyers of their Long Cove homes. According to Long Cove Club Specialist's June 2013 Newsletter, a monthly online publication by the Reed Real Estate Group, currently there are 24 land properties and 20 homes for sale in Long Cove Club. Price range for homes are between $470,000 and $1.3 million, while those who are looking to invest in land properties can acquire lots in Long Cove for under $100,000. Record also shows that the Reed team has already sold more than 10 homes within the last six (6) months, and there are 10 more under contract. Copy of the listings is available for download in Reed Real Estate Group's official website.
Hilton Head real estate has a wide variety of diverse properties, from oceanfront homes to vacation rentals to single-family residences. In Long Cove Club, most of the homes has large, bay windows with views of the golf course. There is a 18-hole private golf course designed by world-renowned golf course designer Pete Dye, newly renovated boat docks, and a clubhouse.
About The Company: The Reed Team has more than 70 years combined experience in the real estate industry. The recent boost from the media only proves that Reed Real Estate Group can live up to its reputation: Real Experience, Real Results.
Reed Real Estate Group
11 Park Ln #1
Hilton Head Island, SC 29928
(843) 686-9526