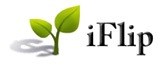 This means iFlip users will now receive new leads in real-time, allowing them the ability to evaluate the deals and follow up quickly, which results in more yes' from potential sellers
Campbell, NY (PRWEB) October 04, 2013
In today's real estate investing world it's imperative that investors are able to find, evaluate, and make offers on a property in the fastest time possible. The faster an investor can make an offer on a property the more likely he is to beat out any competition and secure the deal, which is the ultimate goal when investing in real estate.
Today, iFlipRealEstate.com has released a new version of it's real estate investment software, iFlip 2.0. More specifically iFlipRealEstate.com is excited to announce an all new mobile anywhere, anytime feature that will allow investors from all over the country to access and manage their business from the palm of their hand on any mobile device.
iFlip 2.0 creator, Cameron Dunlap says, "today's world is mobile and everyone is looking for more and more ways to run their lives from their mobiles devices. That's why when we created iFlip 2.0 we set out to develop a real estate investment software that users could take everywhere and access anywhere."
With iFlip's new mobile access feature users can now easily take their iPhone, android, or tablet devices with them as they are out looking for deals and evaluating properties. But Dunlap say's the handiest part about the new mobile feature is that now investor's can have birddogs (house hunters that the iFlip real estate investment software finds and manages) enter in the properties they find right into their phones. "This means iFlip users will now receive new leads in real-time, allowing them the ability to evaluate the deals and follow up quickly, which results in more yes' from potential sellers."
Those looking for real estate investment software to help automate and simplify the business of real estate investing can now test-drive the newest version of the iFlip 2.0 for less than .07 cents per day. "We want all new users to be able to try out iFlip 2.0 and see for themselves just how powerful the entire system is, that's why we're offering new users the chance to test-drive the entire system for only $1.95 for the first 30 days."
For more information on the iFlip real estate investment software or to take a no risk 30-day trial visit http://www.ifliprealestate.com/trialoffer