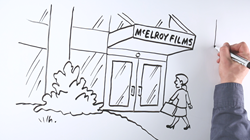 More and more, video has become the common language for new clients and a great way to drive traffic to your website
Boston, MA (PRWEB) February 28, 2014
Boston-based video production company, McElroy Films LLC, has partnered up with their newest real estate clients to create a series of web marketing videos that utilize the latest search engine optimization (SEO) knowledge to drive potential clients into the Boston real estate market.
"Business owners see the value in video," Benjamin McElroy, owner and executive producer of McElroy Films explained. "More and more, video has become the common language for new clients and a great way to drive traffic to your website."
McElroy Films produced a series of real estate videos that supports their clients' latest mobile marketing campaigns. As a response to the recovering real estate market, industry professionals like real estate agents, loan officers, and real estate attorneys are realizing the power of viral videos to educate and excite buyers and sellers. The videos serve as examples of how online video marketing can increase the profitability of a company's direct selling and marketing objectives for any industry. Speaking directly to the target demographic, videos are a vital link between business and consumer.
The demand for professional videography and viral marketing increases as does the frequency of viewers to the content. Referencing ComScore Metrix reports in 2012 and 2014, over 188 million American consumers viewed over 30 billion web videos and watched 26.9 billion virtual ads. With online adverts reaching 52% the USA's consumer market, there is no better time than the present to provide consumers with valuable content, regardless of the industry.
"Professionals in industries such as Real Estate, Law, Accounting, and Insurance are not exempt from the online consumer's demand for web content," Ben said. "Our job is to translate the intricacies of an industry into content that is both entertaining and purposeful for the TV or online audience."
To create content that is seen, videos today need to identify the online consumer trends of both the current and prospective market consumer. Audiences gravitate to companies who are honest and direct. Video content also needs to create content that answers questions, explains subject matter, updates audiences, and shares testimonials. Personalizing the client or prospect's business experience by speaking to their needs, interests, and sensibility establishes credibility.
"Right now, many businesses are still on the fence about video," Ben mused. "But right now, online video has become an ever more powerful tool to grow your business.
"Don't miss out."
If you are interested in a consultation at McElroy Films, please call 781-229-5900 or visit our site.
ABOUT MCELROY FILMS
McElroy Films LLC is an award-winning producer of high definition video for corporate, educational, non-profit, wedding, music video, and independent film use. Serving the Massachusetts and New England area, McElroy Films' mission is to keep high definition video affordable without sacrificing quality. McElroy Films has assisted organizations throughout the Boston area increase their revenues and awareness by drawing in new clients and educating existing ones with concise, effective videos for the web and broadcast.