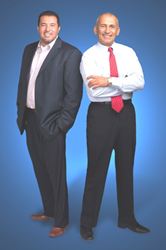 "We were impressed by what we learned about Jim Weichert and his people when we visited New Jersey headquarters."
Ontario, California (PRWEB) July 22, 2014
Homa Javadi and Arturo Rubio, owners of H & A Realty in Ontario, California, have taken a step up in their longtime partnership, announcing they are now the independent owners and operators of a franchise with Weichert Real Estate Affiliates, Inc. (WREA). WEICHERT, REALTORS® - H & A Associates raised the banner in the Inland Empire for the expanding national brand on July 14.
The agency also launched an ambitious recruiting campaign on July 8 called "Career Opportunity Night." The sessions will be available every Tuesday at 7 p.m. at the Weichert® office located at 2411 South Grove Avenue in Ontario. A grand opening event will be announced at a later date. Meanwhile, Javadi, Rubio and the staff and sales team can be reached at 909-390-4663.
Javadi, speaking for himself and Rubio, who is the firm's Broker of Record, said they joined the Weichert franchise network to shift direction from doing "business as usual" to the franchise organization's "clearly defined operating system for marketing and managing a real estate business," with a focus on customer service system in place.
"We were impressed not only by what we heard about the organization's reputation from other businesses, but by what we learned about Jim Weichert and his people when we visited New Jersey headquarters," Javadi said. Specifically, the entire management team, from founder Jim Weichert, to Weichert Affiliates President Martin J. Rueter and his staff, is made up of people who have been in the field as Realtors, Brokers, office owners, managers and sales people. "Jim was an agent himself," Javadi said. "He has started as a Realtor and knows what it takes and what needs to be done."
Rueter welcomed the company. "We are proud to announce our presence in Ontario with the addition of such an outstanding team as Homa and Arturo," he said. "We have high expectations that together, we'll bring superior service to the Inland Empire communities they serve."
About the Owners of WEICHERT, REALTORS® - H & A Associates
Homa Javadi and Arturo Rubio have been in the real estate business with combined experience of over 26 years, spanning work experience with sales of HUD owned and REO properties, probates, short sales, leases, options, business opportunities, land and commercial.
Rubio is a former chair for the Housing Affordability committee at The Inland Gateway Association of REALTORS® and a former member of the association's Cultural Diversity Committee and Education Committee. He is a HUD sales instructor. Speaking fluent English and Spanish, Rubio resides in Eastvale, CA.
Javadi has been a resident of the Inland Empire since 1989. He began his real estate career in the late 1990s, along with his previously established flooring and renovating business for over 10
years. He re-established and focused his career as a Realtor with Prudential California Realty in January 2000. He and Rubio became sales partners in 2005 as agents and opened their own H & A Realty in 2007.
About Weichert Real Estate Affiliates
WREA has grown steadily since Jim Weichert, founder/president of the now 45-year-old Weichert, Realtors, named Martin J. Rueter as president of the franchise division. The two collaborated in 2001 to create a business model for ownership candidates described as "a clearly defined operating system for marketing and managing a real estate business." WREA announced its first affiliate in 2002, was identified in 2005 by Entrepreneur magazine as one of the fastest growing U.S. franchises, and in Entrepreneur's 2013 Franchise 500, ranked #2 among all competitors. Currently, there are offices serving some 250 markets in 37 states.
About Weichert, Realtors
Since 1969, Weichert, Realtors has grown from a single office into one of the nation's leading providers of homeownership services by putting its customers first. A family of full-service real estate and financial services companies, Weichert helps customers buy and sell both residential and commercial real estate, and streamlines the delivery of mortgages and home and title insurance. Weichert leverages its customer website, http://www.weichert.com, one of the most visited real estate websites in the nation, to help families and individuals realize the dream of homeownership through quick and easy access to listing information and the services of its real estate professionals nationwide. For more information, Weichert's customer service center can be reached at 1-800-USA-SOLD. Weichert franchised offices are independently owned and operated.
###