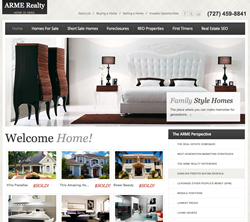 Nationwide (PRWEB) July 20, 2013
ARMERealty.com is a full service real estate web design and SEO company located in Clearwater FL, and is available for helping any real estate agency with real estate web design and SEO. ARMERealty.com does these two things exclusively for real estate professionals.
"So many SEO companies do not focus on this niche because they are trying to land as many customers as possible. For real estate professionals, a real estate web design and SEO firm that specializes and real estate is the firm they need to be able to rely on. Search engine optimization for real estate professionals is all ARMERealty.com does," said Simon Landers of ARMERealty.com.
Real estate is a difficult business in good times but given the current economy and home prices, a realtor and a real estate agency needs full Internet marketing services with real estate web design and SEO. It is not an option for many agencies any longer. The world is moving online and the yellow pages of old are just that – old.
"So many people under forty are no longer using traditional methods for searching for products or services. The availability of smart phones and widespread wireless Internet means instant access. This is why ARMERealty.com featuring real estate web design and SEO can keep an agency alive," said Simon Landers.
He continues, "Now with the release of our newest update to our revolutionary Web Development Toolkit for realtors, we are able to target our buyers and sellers with even more laser sharp accuracy. It's like shooting your choice of fish in a short barrel."
ARMERealty.com has a complete real estate web design and SEO package for any real estate agency anywhere in the U.S., including Alaska and Hawaii. Using techniques and local search strings specifically designed for real estate, ARMERealty has a real estate web design and SEO service that will help an agency appear on the first page of the search engine research page of a major search engine for multiple desirable keywords related to their company.
While every agency would like to be in the first slot, it is very difficult if not impossible to achieve for a small business. ARME Realty removes this obstacle by allowing the website owner to develop 300-500 targeted web pages at a time which essentially converts into 1-5% of those website pages achieving a first page placement on Google.
For more information about ARME Realty.com visit the website or call (727) 459-8841.