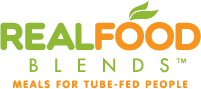 Chesteron, Indiana (PRWEB) August 26, 2014
People on feeding tubes who are looking for real food alternatives to commercial formulas that typically contain corn syrup as a primary ingredient, now have more options for "blenderized" meals. Today, Real Food Blends announced that its full line of feeding-tube meals is now available through Medline, the nation's largest privately held manufacturer and distributor of quality medical supplies and services.
According to a 2010 study from Cincinnati Children's Hospital published in the Journal of Parenteral and Enteral Nutrition, children receiving pureed diets through tube feeding had a reduction in gagging and retching. The study concluded a pureed diet is an effective means of providing nutrition to children with feeding disorders.
"In my practice, I've seen interest in blenderized diets skyrocket in the past few years," said Marsha Dunn Klein, a pediatric occupational therapist, co-author of the "Homemade Blended Formula Handbook," and advisor to Real Food Blends. "I encourage the families I work with to consider a real food diet, and I am so excited Real Food Blends and Medline are providing more solutions."
Due to the time and effort involved in fresh blending, people on feeding tubes can struggle to have meals containing real foods available at all times. Further, medical professionals have shied away from promoting blenderized diets due to concerns regarding clogging (1) the tubes, compliance with approved recipes and worries about contamination (1, 2, 3). Medline's addition of Real Food Blends' product line makes pureed meals more convenient and accessible for tube fed people, and provides medical professionals with a viable real-food option for enteral nutrition.
"As the mother of a child on a feeding tube, I know first-hand the impact that these high-quality meals have on patients," said Julie Bombacino, CEO and founder of Real Food Blends. "Partnering with Medline to increase the availability of Real Food Blends for tube-fed patients enables busy families to easily control and monitor their loved ones' diets, taking some of the guesswork out of caregiving."
At Real Food Blends, 100 percent real food meals include a broad combination of fresh ingredients, including chicken, barley, carrots, sunflower seeds, kale, extra virgin olive oil, quinoa, salmon, rolled oats and flaxseed oil.
To learn more about Real Food Blends' blenderized tube-feeding meals, click here. View products now available through Medline at http://www.medline.com/product/Real-Food-Blends/Oral-Supplements/Z05-PF94788.
About Real Food Blends
Real Food Blends is the maker of 100 percent real food meals for people on feeding tubes. http://www.realfoodblends.com.
About Medline
As the nation's largest privately held manufacturer and distributor of quality medical supplies and services, Medline offers healthcare products and services that drive value through tailored solutions across the continuum of care. Named one of the country's "Best and Brightest Companies to Work For," the company is headquartered in Mundelein, Ill. and has more than 1,200 dedicated sales representatives to support its broad product line and cost management services. For more information on Medline, go to http://www.medline.com or http://www.medline.com/social-media to connect with Medline on a variety of social media channels.
Footnotes:
(1) Jalali, Mohammad; Sabzghabaee, Ali Mohannad; Badri, Shirin Sadat; Soltani, Hasan Ali; and Maracy, Mohammad Reza. "
"Bacterial contamination of hospital-prepared enteral tube feeding formulas in Isfahan, Iran." Journal of Research in Medical Sciences 2009 May-Jun; 14(3): 149–156.
(2) Campbell SM Nutr Clin Pract 2006;21:411-415
(3) Sullivan MM et al. J Hosp Infect 2001;49:268-273.