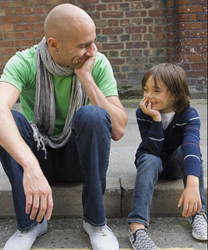 Beginning the school year at a new school can be among the most stressful events in a child's life.
Fort Lee, New Jersey (PRWEB) September 03, 2013
As parents across the U.S. see their children off to a new school year this week, there can be some anxious moments that require parental guidance and wisdom to make the experience less stressful. In a new blog from RealMomsRealReviews.com titled "Five Back-to-School Tips for Parents" and dated August 29, 2013, guest blogger Liz Ernst offers some tips for parents to navigate the sometimes rough waters of back-to-school angst that can help children transition smoothly to their new surroundings.
While many kids view school positively and are excited to begin a new academic year, others may fear the social pressure that school represents. Children who are shy may feel apprehensive about what the new school year has in store. Who will be in their class? Will they make new friends? Will they like their teachers?
All of these concerns can weigh heavily, especially on a child who is going to be starting at a new school, whether due to a family move or beginning high school.
"In fact, beginning a school year at a new school can be among the most stressful events in a child's life," Ernst says. "The good news is that your children have a loving father and mother there to help them through, and most of the time they'll adapt in no time."
To help children adjust to the new school year, Ernst acknowledges that parents may feel a bit hazy when it comes to best practices for guiding their children, especially considering that what they need this year could be very different than what their needs required last year or the year before.
Ernst offers tips for parents feeling unsure about how best to help their children adapt and thrive when the new school year begins:
1. Ask questions, at dinner time, before bedtime, driving in the car --any other peaceful moments you have with your son or daughter – ask plenty of questions.
2. Listen. Parents are often distracted with bills, work, chores, and other consuming "adult" activities.
"It can be easy to tune out your child's voice on topics that seem less important than issue's you're current focused on," Ernst says. "Remember, you need to pay attention and have a keen ear at the beginning of a school year."
3. Keep priorities in check. Boys and girls in middle and high school may be focusing more on their image than on classwork; parents can help them keep their priorities straight by being sure they have all of the tools they need to succeed in school, and good parental influences at home.
4. Meet their teachers. Teachers are going to be spending a lot of influential time with the the child in the coming year.
5. Meet their friends. This will happen progressively, throughout the course of the school year.
"It's easy to miss signs of trouble if you're not making a conscientious effort to understand as much as you can about what is going on in your child's life and surroundings," Ernst says. "Making the effort to understand what your child is thinking and feeling today will pay off in the long run."
For more information, visit the RealMomsRealReviews.com website or email info(at)realmomsrealreviews(dot)com.
About Marble Media LLC:
Marble Media LLC is a creator of high-quality, content-rich blog sites that provide expansive coverage of relevant information to readers who make up a wide range of demographics. The Marble Media LLC team of expert writers covers a wide range of specialties including travel, food, health, fitness, social media, marriage, parenting, technology, weight loss, fashion and much more.
For more information on Marble Media LLC's offerings and advertising opportunities, visit the MarbleMediaLLC.com website, or email sales(at)marblemedia(dot)com.
###