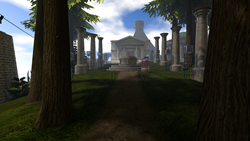 "So many of us here at Cyan are huge, long-time fans of Nintendo, and we appreciate Skymap's expert help in bringing realMyst to the Nintendo Switch. The flexibility of the Nintendo Switch is really exciting -- allowing the surreal environments of Myst to be experienced in whatever environment you
SPOKANE, Wash. (PRWEB) May 21, 2020
Cyan Worlds, Inc., the indie studio behind the best-selling adventure game classics Myst and Riven, has teamed up with Skymap Games to bring realMyst: Masterpiece Edition to the Nintendo Switch™ console.
"So many of us here at Cyan are huge, long-time fans of Nintendo, and we appreciate Skymap's expert help in bringing realMyst to the Nintendo Switch. The flexibility of the Nintendo Switch is really exciting -- allowing the surreal environments of Myst to be experienced in whatever environment you find yourself."
Rand Miller, CEO
"It's an honor to be trusted by our partners at Cyan with a property as important as Myst. The Skymap team is ecstatic that for many players, this will be a return to such a beloved game; and for others, their first time linking to a world that was so personally important to us."
Neal Laurenza, Managing Director of Skymap Games
Myst made its debut in 1993 to critical and popular acclaim and went on to become the best-selling PC game of the 20th century.
In realMyst: Masterpiece Edition for Nintendo Switch, you'll journey to an island tinged with mystery. Only you can unravel this chilling tale. Pick your own path through the forest on Myst Island and seek shelter from the thunderstorm in Stoneship Age. Whether you're visiting Myst Island for the first time, or you've been exploring the island for years - there's never been a better reason to let the surrealistic Ages of realMyst: Masterpiece Edition become your world.
Included with realMyst:Masterpiece Edition for Nintendo Switch:
All of the original Myst Ages and bonus Rime Age content
Original haunting Myst music score by Robyn Miller
Both Touch and Free movement navigation modes
realMyst: Masterpiece Edition Hint Guide in case you get stumped
Releasing May 21st as a digital download, realMyst: Masterpiece Edition is now on sale in the Nintendo eShop for Nintendo of America© for $15.99 USD, through May 28th.
After May 28th, 2020, the price will be $19.99 USD.
While the Nintendo eShop for Nintendo of Europe© will not have a pre-purchase period, the special introductory price will be extended through June 4th, 2020, on that store.
About Skymap Games
Skymap Games is a video game design and development company based in Methuen, MA and Manchester, NH. They believe in crafting ambitious and compelling experiences for players. The Skymap team prioritizes quality of work, a mentality to always be learning, and grit in the face of the unknown.
About Cyan
Cyan is a legendary indie games studio headquartered in Spokane, Washington, best known for award-winning games Myst and Riven. Cyan is currently working on its next VR adventure game, Firmament, which recently completed a Kickstarter campaign raising $1.43 million USD. For more information, visit https://www.cyan.com
Trademarks are property of their respective owners. Nintendo Switch is a trademark of Nintendo.
© 2020 by Cyan Worlds, Inc. All rights reserved. Myst, realMyst, realMyst: Masterpiece Edition and Cyan are trademarks of Cyan Worlds, Inc.
© 2020 Nintendo. Games are property of their respective owners.