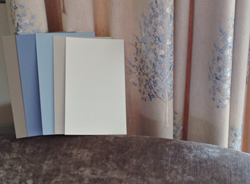 Though there are moments when plain white walls might seem a relief, those moments are rare, and should be discouraged.Roger Banks-Pye, Colefax and Fowler Interior Inspirations.
(PRWEB UK) 21 June 2014
Every year, millions of people spend hours agonising over paint charts and tester pots, in search of the perfect paint colour for the next decorating project. Walk into the local DIY store at any time and people can be seen wandering up and down the paint aisles looking for the perfect colour to leap out, whilst performing origami on colour cards in order to separate the colour of interest from the others on the chart.
When decorating, it's important to get the paint colours spot on.
Painted walls are the backdrop for everything – curtains, furniture and paintings. The paint colour can often make or break the whole scheme. Most people have, at one time or another, entered their newly decorated room with a sense of excitement, only to be hit by a wave of nausea as they are greeted by a sea of colour that wasn't 'quite as imagined'. The disappointment is soul destroying and, whilst it can be rectified with a new coat of paint in the 'right' colour, the right colour's got to be found first. Then the decorator needs to be called back! So, it's definitely worth getting it right first time.
But, how do you ensure that you GET the right colour first time, every time?
Colour charts provide a great starting point when it comes to choosing paint colours. The colour chips are usually too small to make a final decision from though. Once the choice has been narrowed down to 4 or 5 colours, there is usually a mad dash back to the DIY stores to get the relevant tester pots so that the chosen colours can be seen on a bigger area.
At this point, many homeowners turn into graffiti artists, unable to resist the temptation of stabbing blobs of paint onto their smooth, ready to paint, walls. No matter how carefully this is done, it is going to leave a patch on the wall which will show through forever more unless it's sanded back and, in the case of darker colours, whited out.
To avoid this extra work, many people prefer to paint the tester pots onto pieces of paper or card. Card can work better than paper, as paper is likely to warp when painted. The visualisation required to look at a painted sample and imagine it covering an entire flat, painted wall will be more difficult if the sample is warped. Similarly, it will be more helpful if the sample is made using a mini roller, rather than a brush, as this will be more representative of the final finish. Painting 2 coats will usually be necessary to achieve a true view of the colour. Once painted, these testers can be moved around the room to see how the colour reacts in different lights and against other colours. All of this can be a costly and time consuming process.
With Real PaintBox's real paint tester patches, tester pots are a thing of the past. Nikki Seal, founder Director of Real PaintBox, says 'not only are tester patches a quicker and cleaner solution to tester pots, they're cheaper too, which we believe makes them a great alternative. With 280 colours, available in 7 great finishes including our chalky flat matt, we believe we've got it covered.
Patches are available in 3 different sizes with prices starting at 70p for a 4 x 15cm patch.
Patches give instant results and are eco-friendly. When the tester patches are finished with, they can simply be filed for future reference or popped into the cardboard recycling bin.
See website for details at http://www.realpaintbox.com.