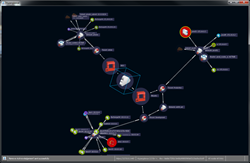 IT managers become more effective and efficient with a full scale, multi-dimensional, 360 degree view they can intuitively navigate and confidently implement immediate resource actions as needed.
London, England (PRWEB) September 03, 2014
Real Status Ltd., a leading-edge provider of integrated IT monitoring and control software, today announced general availability of Hyperglance version 3.3, a software solution to dynamically bring together Public Cloud, Private Cloud, and Software-defined Networking (SDN) data and context aware controls into a consistent management platform. Hyperglance features a cohesive, full scale multi-dimensional topology interface with true 360 degree navigation, intuitive monitoring, and user driven instant IT actions. Hyperglance enables users to more effectively understand and manage the breadth of infrastructure and complex relationships inherent in modern deployments. Organizations are able to instantly download Hyperglance to manage up to 50 nodes, or instances, at no cost with very reasonably priced tiers to scale as needed.
Hyperglance is pre-configured to automatically integrate data and controls from Amazon Web Services (AWS), OpenStack®, HP Virtual Application Networks (VAN) SDN Controller, and OpenDaylight, as well as map alerts and other service data from Nagios. Hyperglance also has a RESTful API to integrate additional data for a customized view.
"As part of the HP SDN Ecosystem, Hyperglance offers customers comprehensive graphical visibility and user driven controls of network infrastructure powered by the HP VAN SDN Controller," said Michael Zhu, Sr. Director, Global Solutions and Alliances at HP. "Customers can now take advantage of HP SDN technology to instantly configure switches and optimize data paths in real-time, with the confidence of knowing how such actions will affect complex virtual relationships."
Key customer benefits and features include:

Consistent multi-user management platform with dynamic aggregation of Cloud and SDN infrastructure data and context aware controls
Comprehensive relationship understanding for reduced risk of Cloud and SDN production roll outs and an overall increase in Quality of Service
Pre-configured platform Integrations automatically load in minutes
Open RESTful API to add new or augment integrated platform data for customized view
All Integrations and API information packaged in one Open Virtual Appliance for easy download and deployment
Immediate changes can be made to a single resource or synchronously to an entire selection, all easily done via topology interface
Intuitive monitoring with resource type and status clearly identified by design, color, and animation
Customizable data views and filters for focused analysis
Ability to instantly find, fix, and prevent errors with 360 degree navigation, selection, rotation, zoom, filters, and real-time actions
The internet of things, Hybrid Cloud and SDN provide great agility, but also create complex physical and virtual relationships across an IT estate that are often difficult to fully understand. Without such an understanding, communications can break down and systems might fail. Most traditional management systems look at static lists of data, charts, and very limited visualization of resource relationships, particularly across different platforms such as Public and Private Cloud. It can be difficult to pin point exactly where errors exist and especially how errors, or potential error resolution, will affect other resources. Hyperglance uniquely eliminates this management complexity while fully leveraging, and integrating, the agility and power of leading Cloud and SDN platforms.
"Hyperglance gives Cloud and network IT managers a cohesive and simplified graphically driven management system that equips them with the ability to make informed decisions based on a clear perspective of the end-to-end relationship impact IT problems and potential actions can have," said Stace Hipperson, CEO and Founder of Real Status. "IT managers become more effective and efficient with a full scale, multi-dimensional, 360 degree view they can intuitively navigate and confidently implement immediate resource actions as needed."
Hyperglance 3.3 is now available for immediate download via real-status.com to manage up to 50 nodes at no cost.
Real Status Ltd. is a leading-edge software company that specializes in dynamic data aggregation and comprehensive visibility to reduce risk and simplify management of complex Cloud and SDN deployments. Real Status is privately owned and headquartered in London, England. Visit us at real-status.com or follow us on Twitter at @hyperglance. For more information, please contact info(at)real-status(dot)com.
All trademarks and copyrights are the property of their respective owners.