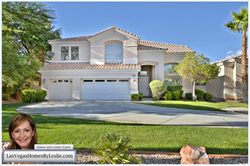 It's not uncommon for prices to fluctuate slightly as we head into the winter months
Las Vegas, NV (PRWEB) December 06, 2014
Award-winning Las Vegas realtor Leslie Hoke is reporting a modest decrease in the average price for single-family homes selling in Southern Nevada. The average selling price in October, 2014 was $199,000 compared to $202,500 in September.
"It's not uncommon for prices to fluctuate slightly as we head into the winter months. Cooler weather and the pending holidays are largely responsible for the decrease. Even though homes sold for about one percent less, the prices are still up over eight percent from this time last year," said Hoke, a Las Vegas Remax Agent.
The lower prices mean potential homeowners can get a good bargain during the off-cycle months when real estate transactions slow down. In addition, October inventory was up over four percent from September, meaning homebuyers have more properties to choose from along with a better price. Hoke also mentioned the median price for condos and townhomes was down five percent from one month ago.
The Las Vegas real estate market is stabilizing. Savvy homebuyers looking to purchase can find a great deal if they educate themselves and work with an excellent Las Vegas Realtor," Hoke went on to say.
For more information about selling or buying real estate in Las Vegas click here: http://goo.gl/16e5Nj
About Leslie Hoke
Leslie Hoke is an award-winning Realtor in Las Vegas NV with RE/MAX Premier Realty Group with well over a decade of experience selling homes in Las Vegas. Ms. Hoke earned the prestigious "Top Las Vegas Realtor" award in 2011, 2012, and 2013. She is a member of the Greater Las Vegas Association of Realtors and National Realtor Association, and is a certified short sale, condominium, and new construction expert. Leslie is known for her excellent customer service, savvy marketing tactics, and track record of success.