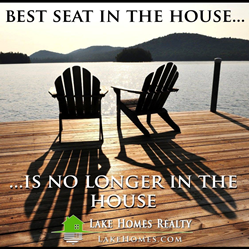 It is important to be well-informed about Corps regulations, use permits, Corps line, flood-easement line, and any limiting factors concerning a lakefront property on Lake Lanier.
LAKE LANIER, Ga. (PRWEB) August 26, 2019
Owning a home on Lake Lanier, the crown jewel of North Georgia, is a dream for many people. Buying a lakeside home in this 38,000-acre playground is like purchasing a piece of paradise.
"However, many people can't see beyond their dreams, and don't realize the unique factors to consider when purchasing lakefront property here," said Baugus, a Lake Lanier expert who has been working with buyers and sellers for more than 20 years.
Lake Lanier is one of America's most favorite lakes and is regarded as one of the largest markets in Georgia and in the Southeast for lake homes and lake lots. Baugus shares her experience by making the following recommendations:
No. 1: Consider the unique factors. For example, Lake Lanier is managed by the US Army Corps of Engineers, which controls the shoreline and issues permits for docks. "It is important to be well-informed about Corps regulations, use permits, Corps line, flood- easement line, and any limiting factors concerning a lakefront property on Lake Lanier," stressed Baugus. "There are several sizes of docks that are allowed on the lake but the location can be a limiting factor. Areas of the lake have what is referred to as 'Protected Shoreline.' The ability to own a private dock can be determined by the location, and the property might not even ever be eligible to have a dock. Furthermore, the depth of the water, proximity within a cove, and surrounding dock positions may determine what size and location for a dock permit if eligible. Lake Lanier currently has several community multi-slip marinas, platform docks, single slip docks, double slip docks, and docks that are considered 'grandfathered' (such as boathouses and oversized docks."
No. 2: Be aware of fluctuating lake levels. Fluctuating lake levels can present unique issues. "For those with private docks, the topography of any particular property on the lake can lead to different management methods of docks," added Baugus. "Some areas with shallow coves may even go dry in extreme low water conditions."
No. 3: Understand property characteristics. Lot sizes, surrounding property circumstances, and local county ordinances can dictate current and future use of any particular lake property. "It is important to understand these characteristics before purchasing a lakefront property to avoid any future disappointments or violations," noted Baugus.
No. 4: Do not believe everything you read online. Technology has made a wealth of real estate information available for the public to access online. However, not all online information is accurate, particularly websites that "estimate" the price or value of real estate. "This accuracy problem is far worse with lake property. A subdivision near a city may have dozens of similar residential homes, all with similar value. Meanwhile, at Lake Lanier, it is common for neighboring homes to vary greatly in design, size, features,age, upkeep, water access, and land value," concluded Baugus. "Although this wide variety of homes provides for wonderfully unique lake properties, it is a nightmare for computers trying to estimate a home's value. It is important to know how these factorsmcontribute to the lake values in buying or selling lakefront property on Lake Lanier."
About Jill Baugus, Lake Homes Realty, Lake Lanier Living
Jill Baugus works with both buyers and sellers on Lake Lanier in North Georgia, specifically the towns of Cumming, Dawsonville, Gainesville, Oakwood, Flowery Branch, Murrayville, and Buford. As a native, her local knowledge of the lake and surrounding neighborhoods and many waterfront communities combined with the power of Lake Homes Realty gives Jill the edge when helping her clients buy and sell properties. For more information, please call (678) 776-0746, or visit https://lakelanierliving.com/.
For media inquiries, please call the NALA at 805.650.6121, ext. 361.