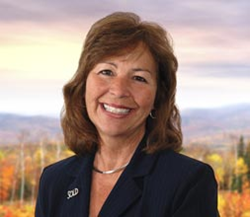 It's not just the nicer weather; it's the urgency of the buyers coming out of hibernation and ready to buy. Also, inventory is low.
Auburn, ME (PRWEB) April 11, 2017
Spring is widely considered to be the best time of year to sell a house, as buyers are out in droves enjoying the new season. "However, competition this time of year can be fierce. It's not just the nicer weather; it's the urgency of the buyers coming out of hibernation and ready to buy. Also, inventory is low," said Better Homes and Gardens Real Estate Agent Linda Beaulieu, of The Masiello Group. "But there are ways to better ensure a sale and stand out from the competition."
In order to help Maine sellers this spring, Beaulieu lists the following three tips:
No. 1: Interview a few local Realtors. "You should always interview a few local Realtors to see what they each have to offer and who you feel comfortable with," stressed Beaulieu. "The key to a good Realtor-client relationship is communication. Make sure your Realtor has a high production level, is knowledgeable about the area and has the experience to negotiate and sell your home at the best price."
No. 2: Make the house sparkle. When showing a home, it should always be spotless, just like if one was having guests over, as every potential buyer should be treated like a guest. "Do your spring cleaning," said Beaulieu. "If anything is broken, fix it. If it's dirty, clean it. If it's out of style, update it. Be sure to declutter, as the potential buyer wants to see how they will live in the home, not how you live in it. Additionally, rid the house of any displeasing odors, such as that from pets, smoking, etc."
No. 3: Enhance curb appeal. Curb appeal is just as important as inside appeal, as the outside is the first thing a prospective buyer will see. "Clean the yard, fix the stairs, get your lawn going (the greener the better) and plant some flowers," concluded Beaulieu.
About Linda Beaulieu, Better Homes and Gardens Real Estate, The Masiello Group
Linda Beaulieu is a Realtor, an Accredited Buyer's Representative and a Graduate of the Realtor Institute. She believes in education and has a Bachelor of Science degree and 23+ years in the business. Beaulieu receives yearly "Excellence in Service" awards and is consistently one of the top 5 agents in The Masiello Group of over 700 agents in closed transactions. She is also in the top 2% of the Better Homes and Gardens Realtors for transactions achieving the highest distinction, the Emerald Elite status, in that franchise. You can visit her on April 13 at the Chamber Breakfast meeting at the Ramada Inn in Lewiston as she will be a Spotlighter, or for more information, call (207) 754-3310, visit her at her office at BH&G/Masiello Group at 155 Center St., in Auburn, ME, or on her website, http://www.lindab.masiello.com. Linda stands by her logo, "When it comes to Real Estate, I work for YOU!"
About the NALA™
The NALA offers small and medium-sized businesses effective ways to reach customers through new media. As a single-agency source, the NALA helps businesses flourish in their local community. The NALA's mission is to promote a business' relevant and newsworthy events and achievements, both online and through traditional media. For media inquiries, please call 805.650.6121, ext. 361.