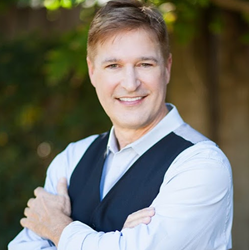 The easiest thing for the buyer to shorten contingency-wise would be their physical inspection. Those types of things go a long way with the seller.
Los Angeles, CA (PRWEB) September 19, 2017
Berkshire Hathaway HomeServices REALTOR® Monty Iceman has proudly recorded three informative real estate-related segments for the NALA's North American Speaker Series (NASS) to educate buyers and sellers of homes. The NALA's NASS gives small and medium-sized business owners a unique platform to present their stories and industry expertise to a diverse, hyper-local audience through short, poignant audio segments.
In his first segment, Iceman, a Luxury Properties Specialist who works with experienced homeowners as well as first-time buyers and sellers, discusses ways to win in a multiple offer situation. "As a buyer, or representing a buyer in this case, I would recommend that they shorten their contingency terms, like the appraisal contingency, the loan contingency," said Iceman. "The easiest thing for the buyer to shorten contingency-wise would be their physical inspection. Those types of things go a long way with the seller."
In his second segment, Iceman, one of the San Fernando Valley's most successful agents, presents steps to prepare for the home-buying process. "The very first step a buyer should do if they are seriously considering homeownership is speak to a qualified lender who will take their information, pull their credit and will give the buyer a real sense of what they can actually afford," noted Iceman. "In the long run, that saves everybody time."
Finally, in his third segment, Iceman illustrates what sellers should do to prepare their home for sale. "The most important thing a seller can do when they're preparing their house is try and put the buyer hat on," concluded Iceman. "Step out of the seller mode, and go into the buyer mode. What would impress you when you get out of the car and walk up to the house?"
To listen to each segment in its entirety, please click on the respective links.
About Monty Iceman, Berkshire Hathaway HomeServices
Monty Iceman enjoys working with not only experienced homeowners, but also first-time buyers and sellers. A Luxury Properties Specialist, his expertise spans the San Fernando Valley and Westside of Los Angeles, from cozy condos to large estates. Berkshire Hathaway HomeServices offers the convenience of "one-stop" shopping. As an industry leader, Berkshire Hathaway HomeServices is committed to offering its clients the latest innovations in marketing and technology. For more information, call Monty at (818) 521-2568, or visit http://www.montyiceman.com.
About the NALA™
The NALA offers small and medium-sized businesses effective ways to reach customers through new media. As a single-agency source, the NALA helps businesses flourish in their local community. The NALA's mission is to promote a business' relevant and newsworthy events and achievements, both online and through traditional media. The information and content in this article are not in conjunction with the views of the NALA. For media inquiries, please call 805.650.6121, ext. 361.