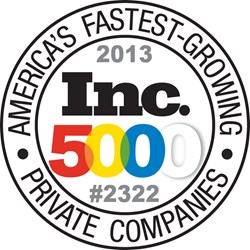 We have something special going on here. It's quite thrilling to be a part of.
Jamestown, North Dakota (PRWEB) August 22, 2013
RealTruck.com, an online retailer specializing in pickup truck accessories, today announced it was ranked 2322 on Inc. magazine's 2013 Inc 5000 list. The annual list profiles the fastest-growing private companies in the United States based on three-year revenue growth. RealTruck also ranked third of all North Dakota-based companies and is one of only ten businesses from the state recognized on the list.
To qualify for the 2013 Inc 5000 list, companies must have had a minimum of $300,000 in revenue in 2009 and $2 million in 2012. RealTruck.com experienced 157% growth and added 21 new jobs over this time period. The company is currently on track to break all previous sales records at the end of 2013.
"When we built this company from scratch back in 1998, we never expected it to grow into a multi-million dollar operation," said RealTruck.com CEO Scott Bintz. "We have something special going on here. It's quite thrilling to be a part of. Making it onto something as recognized as the Inc 5000 amongst so many other companies is an honor."
The full 2013 Inc 5000 list can also be viewed online at http://www.inc.com/inc5000. RealTruck.com's Inc 5000 profile is available at http://www.inc.com/profile/realtruckcom.
About RealTruck.com
RealTruck.com is a successful online retailer specializing in aftermarket pickup truck accessories. Founded by CEO Scott Bintz in the basement of a Spokane, Wash. duplex in the late 1990s, the company relocated its headquarters to Jamestown, N.D. in 2000 and added a satellite office in Fargo, N.D. in 2010. The growing e-commerce enterprise currently has more than 50 employees and offers over 500,000 accessories for all of the top pickup truck and sports utility vehicle makes and models on the market today. Driven by a unique set of Guiding Principles, its mission is to improve people's lives and vehicles. For more information, please visit RealTruck.com or @RealTruck on Twitter.
About The Inc. 5000
Founded in 1979 and acquired in 2005 by Mansueto Ventures LLC, Inc. is the only major brand dedicated exclusively to owners and managers of growing private companies, with the aim to deliver real solutions for today's innovative company builders. The Inc. 500|5000 list is a ranking, according to percentage annual growth when comparing 2009 to 2012, of privately held, for profit, independent companies in the United States.