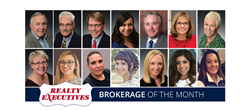 Phoenix, AZ (PRWEB) July 20, 2017
Realty Executives International would like to recognize Realty Executives Tucson Elite for their high agent productivity, rapid growth, and agent-centric business model by naming them Brokerage of the Month for June 2017. Led by CEO and Designated Broker Jeff Murtaugh, President John Dwyer, and Senior Vice President Mark Shinn, the firm is home to more than 360 real estate professionals who offer full-service real estate expertise to buyers and sellers throughout Southern Arizona.
"Five years ago, Realty Executives Tucson Elite didn't show up on the market share stats for the Tucson Metro, and our agent count was under 50. Today, we're no. 3 in market share in both volume and units, and our agent count has grown by more than 600%," says Dwyer.
The brokerage was recently recognized by REAL Trends for agent productivity, with The KMS Team, Corner Connect and The Property Partners ranking in the prestigious "The Thousand" report. These three elite teams were also featured in the "America's Best Real Estate Agents" ranking, along with The Stinson Group, The Watters Team, The Armbruster Team, Deakin-Anderson Team, The Leach Team, and Associate Broker Sofia Gil. These REAL Trends reports place Realty Executives Tucson Elite agents in the top 1 percent of the more than 1.25 million REALTORS® nationwide.
"Our agent benefits, programs, and services are all geared towards making our company the easiest and most cost-effective place for a professional real estate agent to do their business. Our full-service and low-cost environment, coupled with exceptional broker support, has made Realty Executives Tucson Elite 'the place to be,'" says Murtaugh.
The company has non-competing managers and administrative staff who support the high number of transactions that are typical for Realty Executives agents, as well as a robust affiliated services program that further streamlines processes and boosts efficiency, which includes offerings from title, mortgage, home warranty, insurance, and moving professionals, amongst others.
The Brokers, agents and staff of Realty Executives Tucson Elite should be proud, and we at Realty Executives International are honored to celebrate their continued success.
About Realty Executives Intl. Svcs. LLC
Established in 1965, Realty Executives International is one of the largest and most established real estate franchise systems in the world, with over 8,000 agents and 500 offices globally. The company offers disruptive pricing models particularly attractive to top performing agents. Its unrivaled mobile technology, business tools, training and concierge service are coupled with protected territories and financing for qualified franchisees. The Scottsdale-based, privately held company has been ranked as a leader in the real estate industry by publications like Entrepreneur, Success and Inc. magazines. For additional company information visit http://www.RealtyExecutives.com. - -