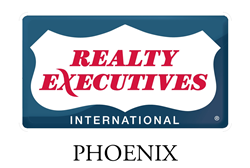 Phoenix, ARIZ. (PRWEB) March 13, 2014
Realty Executives Phoenix is pleased to announce it has once again surpassed 2 billion dollars in closed sales volume for 2013, with a year-end closed sales volume total of $2,256,742,539. The brokerage, which has more than 725 sales associates and 11 branch offices Valleywide, upholds a consistent record for high per-agent productivity despite wide-ranging fluctuations in the Phoenix-area real estate market. In 2013, Realty Executives Phoenix exceeded 2 billion dollars in sales for the 20th year since 1991.
The brokerage also ended 2013 with 10,885 total closed transaction sides. Realty Executives Phoenix sales associates are among the most productive in the nation, averaging 14.9 closed transaction sides per year in 2013, again surpassing the national average which is 12, according to the National Association of REALTORS® most recent Member Profile report. In 2013, the average local Realty Executives agent earned $85,200 annually; well above the national average of $43,500. Additionally, 29 percent of the brokerage's sales associates earned over $100,000 last year.
"I could not be more proud of the professionalism, expertise and skill demonstrated by the sales associates of Realty Executives Phoenix," said Rich Rector, owner and executive chairman of Realty Executive Phoenix. "Especially in recent years, our sales associates have successfully navigated through diverse market changes. While the market will continue to fluctuate, our agents are uniquely positioned to help buyers and sellers overcome challenges and capitalize on opportunities through 2014. The numbers show our associates effectively and expertly serve their clients in any market," Rector said.
Franchising company Realty Executives International, with nearly 10,000 sales associates and more than 500 offices worldwide, last month released 2013 system-wide awards information. Individuals, teams and offices hailing from the Realty Executives Phoenix brokerage were recognized as top award winners in both commission and per unit productivity categories. 14 individual Realty Executives Phoenix sales associates placed amongst the top 100 associates listed by commission earned in 2013 worldwide.
To learn more about Realty Executives Phoenix or to find a talented Realty Executive Phoenix agent, visit http://www.RealtyExecutivesPhoenix.com.
About Realty Executives Phoenix
Realty Executives Phoenix is one of the largest real estate brokerages in the United States with 11 branch offices and dozens of satellite offices throughout the State of Arizona. Founded in 1965 by R. Dale Rector, Realty Executives revolutionized the real estate industry as the nation's first 100 percent commission company. Based on the spirit of entrepreneurism, the brokerage has thrived in the Phoenix metropolitan area and nationally as one of the most productive brokerages in the United States for the last 48 years. Since 1972, Realty Executives Phoenix has held the honor of being a top brokerage in the Phoenix metropolitan market for per agent productivity. For additional company information visit http://www.RealtyExecutivesPhoenix.com.