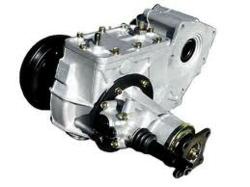 A new method of searching by year and parts make has removed the need to use specific part numbers for all assemblies.
Birmingham, Alabama (PRWEB) July 10, 2013
Four-wheel drive vehicles depend on more than precision parts engineering to provide expected maneuverability and safety features. The transfer cases used to engage essential movement in 4x4 vehicles is made up of front and rear types. The TransferCasesforSale.com company is now selling rear transfer case inventory for trucks and SUVs online at http://www.transfercasesforsale.com/rebuilt-transfer-cases.
The offering of these rear units marks the completion of inventory changes that were started early last month for buyers. Both front and rear units are now represented in the company warehouse inventory in rebuilt and previously owned condition.
The rear units that can be installed inside pickup trucks and SUVs are marked with an introductory price level to judge the price points now in place for buyers.
"4WD and all-wheel drive are now standard on most 4x4 vehicles," said a rebuilder from the TransferCasesforSale.com company. The options for manual and electronic units help to control the type of engagement that is offered when off-road usage is required. The used and reconditioned systems that are now promoted for sale include units for Ford, Chevy, Dodge and some imported vehicle brands.
"The rear cases now available are ready for installation in rear differential vehicles," added the rebuilder. Buyers researching the correct type of part no longer need to use part numbers when searching the Transfer Cases for Sale Co. website. A new method of searching by year and parts make has removed the need to use specific part numbers for all assemblies. The internal company database now has numbers listed that are cross-referenced when quote requests are received.
Consumers using this online system can also take advantage of the front or rear case assembly lookup provided by company specialists by telephone. Buyers who call 1-866-469-1209 are now signed to parts specialists who research any information requested. Orders can be placed using this number to achieve same day processing and shipment.
About TransferCasesforSale.com
The TransferCasesforSale.com company rebuilds case assemblies and sells preowned units to buyers for low prices online. Most U.S. automakers and some foreign brands can be researched or purchased from the company inventory. Auto industry experts started this company and launched the first rendition of the company website in the year 2009. The TransferCasesforSale.com company offers to ship its units nationally for no cost to consumers. Tools published on the company website now assist with price quotations and information requests placed by buyers to process orders faster.