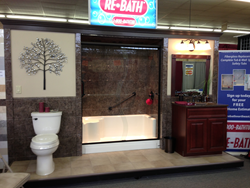 Forty Fort, PA (PRWEB) February 21, 2015
ReBath Northeast will be bringing its award winning home show display to six home shows in the Northeast and suburban Philadelphia areas, through the end of March.
At each home show, knowledgeable associates will be on hand to answer questions and speak with prospective clients.
A slightly different display will be at each home show, but no matter which displays are present, show attendees will be able to see for themselves the beautiful work that ReBath Northeast can do.
Anyone looking to remodel a bathroom this year should stop by the home show closest to their home and speak with a ReBath Northeast associate. See the schedule below.
2015 Spring Home Show Schedule
February 19-22
Suburban Home and Garden Show at the Greater Philadelphia Expo Center at Oaks
For GPS: 1601 Egypt Road, Phoenixville, PA 19460
Hours
Feb 19: 2 p.m. to 8 p.m. (FREE ADMISSION)
Feb 20: 12 p.m. to 8 p.m.
Feb 21: 11 a.m. to 8 p.m.
Feb 22: 11 a.m. to 5 p.m.
February 27- March 1
Central Susquehanna Builders Associates Home and Outdoor Living Show
Bloomsburg Fairgrounds
Hours
Feb 27: 10 a.m. to 8 p.m.
Feb 28: 10 a.m. to 8 p.m.
Mar 1: 10 a.m. to 4 p.m.
13th Annual Eastern Pennsylvania Spring Home Show
Allentown Fair Grounds
Hours
Feb 27: 5 p.m. to 9 p.m.
Feb 28: 10 a.m. to 6 p.m.
Mar 1: 10 a.m. to 5 p.m.
March 6-8
BIA of NEPA Home Expo
Mohegan Sun Hotel & Convention Center Pocono Downs – Wilkes-Barre
Hours
Mar 6: 3 p.m. to 7 p.m.
Mar 7: 10 a.m. to 9 p.m.
Mar 8: 10 a.m. to 4 p.m.
March 13-15
West Branch Susquehanna Builders Associate Home Show
Lycoming College Recreation Center
Hours
Mar 13: 3 p.m. to 9 p.m.
Mar 14: 10 a.m. to 8 p.m.
Mar 15: 12 p.m. to 4 p.m.
March 27-29
Lehigh Valley Builders Association Spring Home Show
Stabler Arena in Bethlehem
Hours
Mar 27: 5 p.m. to 9 p.m.
Mar 28: 10 a.m. to 8 p.m.
Mar 29: 11 a.m. to 4 p.m.
About ReBath Northeast
ReBath Northeast is a franchise of ReBath®, which sells patented DuraBath SSP™ acrylic products. ReBath Northeast is a bathroom remodeling company that specializes in the tub and shower area, installing tub and shower replacements, bathtub liners, tub to shower conversions, barrier-free showers, low-threshold shower bases and walk-in tubs in as little as one day. ReBath Northeast can also remodel the rest of the bathroom in as little as two days. Their service areas are located throughout Eastern Pennsylvania including the towns of Reading, Lehighton, Berwick, Dunmore, Lansdale, Allentown, Emmaus, Dallas, Mountain Top, Williamsport, Bethlehem, Clarks Summit, Mount Pocono, Hatboro, Pottstown, Danville, Easton, Elysburg, Ashland and Tunkhannock. For more information about the services ReBath Northeast offers, visit http://www.rebathnortheast.com.
Aimee Fritzges
ReBath Northeast
One Week Kitchens
934 Wyoming Ave
Forty Fort, PA 18704
1-800-BATHTUB
(570) 283-3005
http://www.rebathnortheast.com
afritzges(at)rebathnortheast(dot)com