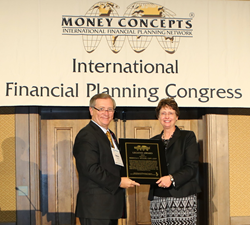 The 2014 LEGEND AWARD was presented to Rebecca C Muller, CFP®, CFS® from Indianapolis Indiana.
Palm Beach Gardens, FL (PRWEB) July 30, 2014
Rebecca Muller began her career with Money Concepts in 1984 and today serves as President of Circle Financial Planning. As a Wealth Coach she has built her practice with endless energy and boundless creativity. As a result she has helped establish new standards in wealth management and financial services industry.
Money Concepts president & CEO Denis Walsh says, "Becky is the personification of integrity, loyalty and dedication. Through her willingness to help and serve others, she exemplifies our corporate motto "the more you do for others, the more you do for you."
Over the last 35 years, Money Concepts has established a collection of independently owned Best Practices to form turn-key solutions for advisors seeking independence without compromising the support needed to effectively serve their clients. With results-proven structured business models, the focus has been to provide advisors with strategic resources with the flexibility to adapt to the ever changing demands of the financial services industry.
About Money Concepts®:
Money Concepts Capital Corp. is a privately owned independent broker-dealer and dually registered as a Registered Investment Advisor based in Palm Beach Gardens, FL. Established in 1979, and its parent company Money Concepts International, Inc. has a network of approximately 700 financial professional's centers nationwide.
In addition to serving independent advisors, Money Concepts® provides turn-key wealth management services for community banks, credit unions and tax professionals. Money Concepts® advisors provide holistic planning and offer a full array of non-proprietary products and services including advisory and alternative investment services.
All Securities Offered Through Money Concepts Capital Corp. | Member FINRA / SIPC
Money Concepts Advisory Service is a Registered Investment Advisor with the SEC
All Non Securities and Non Advisory Products through Money Concepts International, Inc.11440 North Jog Road, Palm Beach Gardens, FL 33418. 561-472-2000.
For more information, visit http://www.MoneyConcepts.com/Advisor and follow us on Facebook, Twitter and LinkedIn.