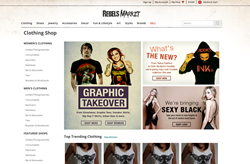 Subverting the ordinary is our mission" said James Wachira, Co-Founder of RebelsMarket. I believe we all have a unique identity and this is what RebelsMarket stands for," he continues
Los Altos, California (PRWEB) February 18, 2015
In a world where so many online marketplaces cater to the conventional, RebelsMarket.com is finding more and more individuals looking for an alternative. In response to that growing demand, the site that caters to people with unique fashion tastes is preparing to roll out new stores and brands that represent an edgy, alternative lifestyle.
RebelsMarket's commitment to offering unconventional goods to the fashion rebel has resulted in over 300 percent growth in the last year. Meanwhile, the site's social media networks have attracted more than 4 million followers with about 500,000 new visitors each month.
James Wachira and Robert Wagner launched RebelsMarket in 2013 in response to a counterculture that was lacking an alternative marketplace for its misfit fashion preferences. The need became even more apparent to Wagner when he launched a tattoo­ themed Facebook page in 2009 that quickly garnered millions of fans.
Although clothing is a big part of RebelsMarket, the site is also a marketplace for jewelry, accessories, home goods and art work. Buyers can shop by category, or they can narrow their search by style, whether they prefer goth or vintage fashion. RebelsMarket also maintains a blog that follows subculture trends and ideas.
Sellers can create their own store through RebelsMarket at no cost, and there's no fee or contract required to operate the store. Potential sellers must apply for a store first to ensure they're offering products in line with the alternative lifestyle and cultures RebelsMarket promotes. The site only charges a 15 percent transaction fee for each purchase.
Since 2013, James Wachira & Robert Wagner have grown RebelsMarket into a place where buyers and sellers can share their love of unconventional fashion subcultures, including goth, steampunk, burlesque, tattoo, and punk rock. Now with two international offices in Dusseldorf, Germany, and San Francisco, USA.
RebelsMarket also offers international brands buyers are unlikely to find in other online marketplaces.
And there's more on the way.
For more information, visit http://www.rebelsmarket.com.
Press Contact: james(at)rebelsmarket.com