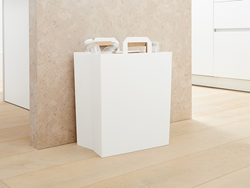 With RE.BIN, consumers can save on space and time with a design that is sure to complement any home interior.
NEW YORK CITY (PRWEB) April 11, 2016
RE.BIN is a modern recycling bin that promotes sustainability through design by offering an easy way to recycle. The campaign for RE.BIN, which has successfully raised more than $51K, has been featured in several design and environmental media outlets including Design Milk, PSFK, Inhabitat and Trend Hunter.
"Living in a larger city, I've realized how hard it can be for consumers to practice recycling at home. More often than not, recycling bins tend to be bulky or an eyesore," RE.BIN founder Whitney Ferrell said. As an environmental lawyer, Ferrell has always had a passion for protecting the environment and living a sustainable lifestyle. "With RE.BIN, consumers can save on space and time with a design that is sure to complement any home interior."
Made in Vermont from 100% recycled plastic, RE.BIN is designed to be lined with standard paper grocery bags for an easy, clean, sustainable recycling experience. Available in either black or white, RE.BIN's modern, elegant design is intended to be visually displayed, but is small enough to fit inside a kitchen cabinet.
Because RE.BIN hit its $50K funding goal this past weekend, Ferrell announced a new reward for backers. For those consumers who carry reusable recycling bags to the grocery store, custom RE.BIN liners are available to keep individuals' bins clean and mess-free. The liners are available in sets of 15 for $10 or 30 for $15.
RE.BIN aims promote recycling in large cities across the world. With RE.BIN, it's easy for consumers to recycle and do their part in protecting the environment. There are less than three days left for potential backers to purchase their own RE.BIN recycling bins on Kickstarter. For more information, please visit the campaign at bit.ly/Rebin_KS.
About RE.BIN
RE.BIN's mission is to promote sustainability through design. We believe you should never have to choose between protecting the environment and your love for a design. RE.BIN strives to create beautiful products that make it easier for you to live sustainably. To learn more, please visit http://www.rebinus.com/.