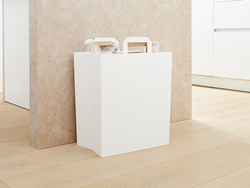 I love living in New York, but I know how hard it can be to practice a sustainable lifestyle when you live in a tiny apartment in a big city.
NEW YORK (PRWEB) May 02, 2016
RE.BIN, the modern alternative to the traditional recycling bin, offers an easy way to recycle in style. Made in Vermont from 100% recycled and recyclable plastic, RE.BIN is designed to be used with standard paper grocery bags for an easy, clean and sustainable recycling experience. The stylish recycling bin, which raised over $52K on Kickstarter last month, has moved to Indiegogo InDemand. RE.BIN will continue accepting pre-orders and is now moving into the production and development stages.
"Thanks to all of our amazing backers, we're able to get RE.BIN into production and share our product with the world," said RE.BIN founder Whitney Ferrell. "I love living in New York, but I know how hard it can be to practice a sustainable lifestyle when you live in a tiny apartment in a big city. RE.BIN can be used with any standard paper grocery bag. When the recycling is full, you can just grab the paper bag liner and recycle it together with the contents on your way out the door. With RE.BIN, you'll never worry about returning your recycling bin to your apartment again."
Over the past few years, RE.BIN has gone from an idea to a production-ready product. Ferrell and her team of designers have worked through several prototypes, meticulously researched recycled plastics and visited manufacturers all across the U.S. before selecting one that met their sustainability standards. They crafted RE.BIN with the highest attention paid to minimizing its ecological footprint while offering a functional, innovative design. Because RE.BIN successfully funded last month on Kickstarter, Ferrell and her team have now moved RE.BIN into production and the product is on track to begin shipping in September 2016.
RE.BIN, which uses a paper bag liner to make recycling quick and easy, is intended to be displayed in a kitchen or open living area. Its compact size also makes RE.BIN perfect for storing in kitchen cabinets. The new recycling bin is currently available in either black or white. However, last week, Ferrell announced plans to unveil a third color option if RE.BIN raises $100K on the project's new Indiegogo InDemand campaign. If the $100K goal is met, Ferrell will let the backers decided what the third color option will be.
RE.BIN aims to promote recycling in larger cities by making recycling a chic, easy and clean experience. With RE.BIN, consumers can live an eco-friendly lifestyle and do their part in protecting the environment without sacrificing their time or beautiful home decor. For more information on RE.BIN, please visit bit.ly/Rebin_Indie.
About RE.BIN
RE.BIN's mission is to promote sustainability through design. We believe you should never have to choose between protecting the environment and your love for a design. RE.BIN strives to create beautiful products that make it easier for you to live sustainably. To learn more, please visit http://www.rebinus.com/.