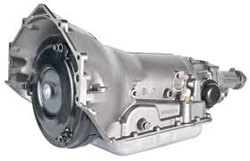 The Chevy, Buick, Oldsmobile and Cadillac brands of vehicles at the GM company can each receive the rebuilt 4L60E editions that we are now selling online
St. Louis, MO (PRWEB) July 30, 2015
Vehicle owners who plan to purchase a replacement gearbox for a General Motors manufactured vehicle will now be able to buy reconditioned assemblies at the CheapRebuiltTransmissions.com website. Inventory for rebuilt 4L60E transmissions is now available to explore on the CRT website at http://cheaprebuilttransmissions.com/rebuilt-transmission-4l60e.
The front-wheel drive compatible builds that are now in stock each have four gears that are electronically controlled. These assemblies were originally built in the early to mid 1990s, and are now being refurbished prior to sale this year. The E-Series automatic gearboxes now available each feature OEM parts and have been cleaned and tested.
"The Chevy, Buick, Oldsmobile and Cadillac brands of vehicles at the GM company can each receive the rebuilt 4L60E editions that we are now selling online," said one rep from the CheapRebuiltTransmissions.co website.
Aside from acquiring the General Motors builds now available, the Cheap Rebuilt Transmissions company website has been revised to feature improved search tools. It will be possible to explore the entire inventory of electronic and non-electronic assemblies by accessing the upgraded tool now active on the company website.
"Because our inventory is reconditioned in our own facility, we are able to provide a lower cost and still extend the normal terms of warranty protection," the rep added.
Consumers will now have the option of ordering products offline through a new telephone system in place. When people call 1-888-292-8807, an order can placed or transmission ID tags can be matched to lessen the risk of purchasing the wrong editions. The CRT customer service staff is now available Monday to Sunday in the USA.
About CheapRebuiltTransmissions.com
The CheapRebuiltTransmissions.com company is one rebuilding company providing custom rebuilds of foreign and American vehicle gearboxes. The company now has a full inventory of thousands of products that are being listed on the company homepage. The CheapRebuiltTransmissions.com company now offers a toll-free phone number to provide easier ordering opportunities for the public.